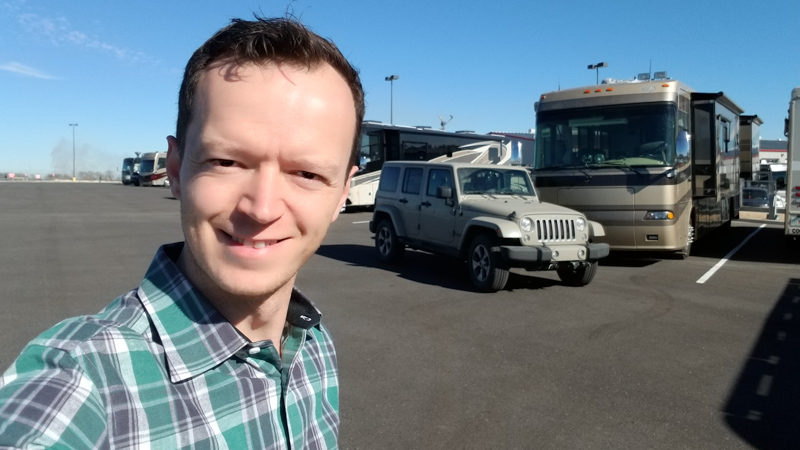 Explorker2 is one mean machine, and we want to keep it that way, so preventative maintenance and staying on top of little things is important to us. We also drained our batteries down to 11.7 volts a few times and wanted to double our battery capacity. We were so impressed with our experience at the REV Group Service Centre in Coburg that we decided to make their Texas service center a stop.
The REV team in Coburg set a high bar, and the Texas team tried to keep up. Our email exchange with the Texas Service Centre was painful, which had us worried, but when we showed up, Justin, our service advisor was very friendly. Our secret tip: If you need to communicate with the Texas service center via email, get the email address for one of the service advisors!
The facility in Texas felt much bigger than Coburg. The overnight parking comes with 50-amp power and water hookups. The wifi signal didn't reach Explorker2, so we used the internet connection from our phones. The overnight parking is fenced in, requiring a security code for the gate. There is a bit of green space in the overnight area, which was nice. The waiting area is pretty dry compared to Coburg, with only 1 couch, but it did the trick.
The final bill was $7,199.55 USD. We got the feeling that the REV Service Centre in Coburg was more efficient and knowledgeable. $1365 USD of our final bill in Texas was from 13 hours of work, trying to get the Magnum Battery Monitoring Kit working that High River Autoplex installed incorrectly. It felt like REV had never seen a BMK from Magnum before and it was all very foreign to them. For now, we will go without knowing our power consumption.
We are all about sharing, so here is a breakdown of the things REV worked on:
Winterizing and Dewinterizing ($348 USD)
Fixing the windshield wipers ($315 USD)
Work on the Magnum Battery Monitoring Kit ($1365 USD)
Magnum Auto Generator Start cleaning of terminals ($231 USD)
Connected the system heat switch ($210 USD)
Replaced house battery cables, with larger gauge ($210 USD)
Fixed the bay door to water compartment ($105 USD)
Re-calibrated the HWH leveling system ($315 USD)
Fixed armrest on passenger seat ($105 USD)
Installed clothes line in shower ($105 USD)
Replaced house battery disconnect switch ($210 USD)
Removed glue residue on the outside ($105 USD)
Serviced our 2 Air Conditioning units ($299 USD)
Roof inspection and maintenance ($149 USD)
And here is the breakdown for our battery upgrade:
Flow-Rite battery water maintenance kit ($513 USD)
Moving of chassis batteries and installation of additional house batteries ($1,575 USD)
Four additional house batteries ($804 USD)
Related misc costs ($113 USD)
The total cost of doubling our battery capacity was $3,005 USD.
We are now ready to make our way to Louisiana. Who knows, maybe we'll check out the REV service center in Decatur next?!
Would we go back to the Texas REV Service Centre? Maybe. Justin, our service advisor, and the tech who worked on Explorker2 were very nice, but the team in Coburg seemed more knowledgeable and we feel like we got much more for our money. There were also some confusing things with the final bill, the initial quote was around $800 USD, we got an update at $3,789 USD and the final bill was $7,199.55 USD.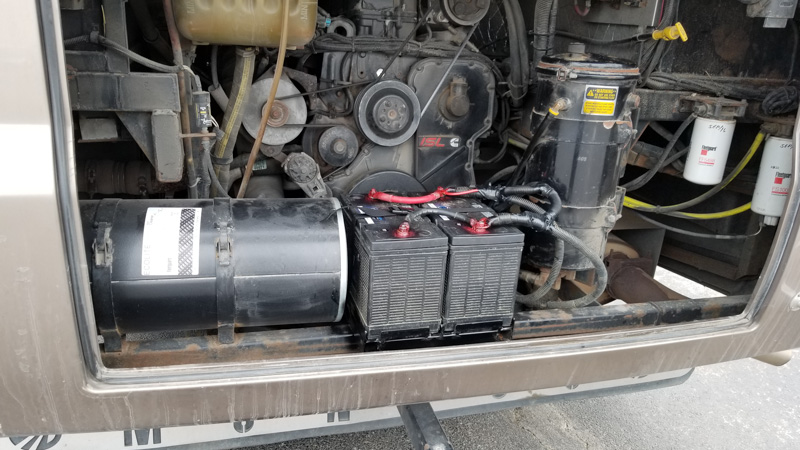 Our chassis batteries, the batteries that start the engine, are now in the engine bay. REV built a custom battery tray to make sure the chassis batteries don't move.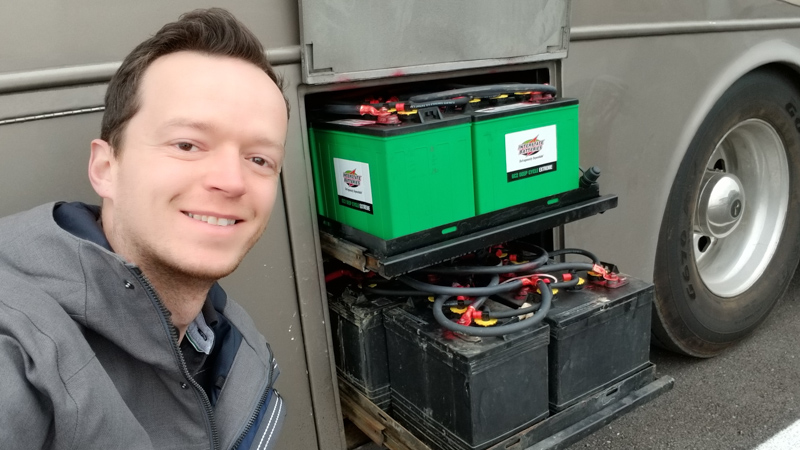 Where the chassis batteries used to be, there are now 4 brand new 220AH 6-volt Interstate batteries, with a few Flow-Rite maintenance kits.
There are quite a few desks in the waiting area, which made working easy. Why REV hasn't put shiny brochures of their motor coaches on display yet, is unknown.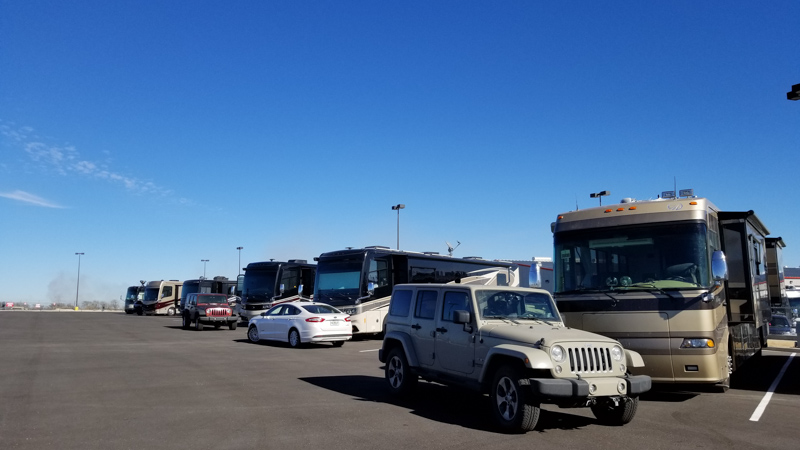 The "campground" is right beside the main building. Tip: choose a spot on the right, closest to the buildings. The spots are more level and closer to the power outlets and water.