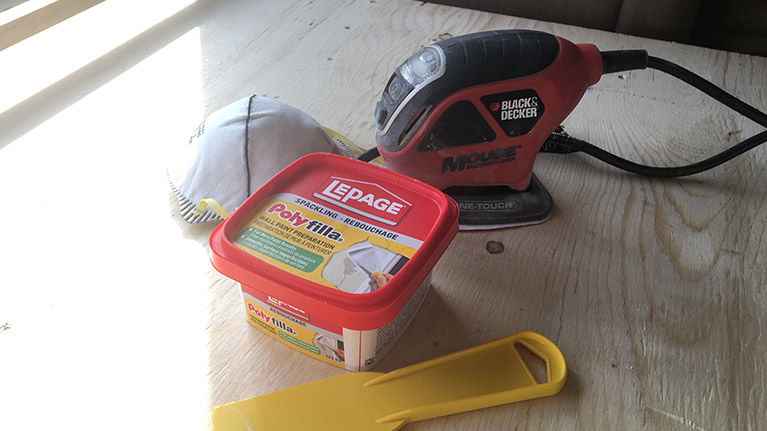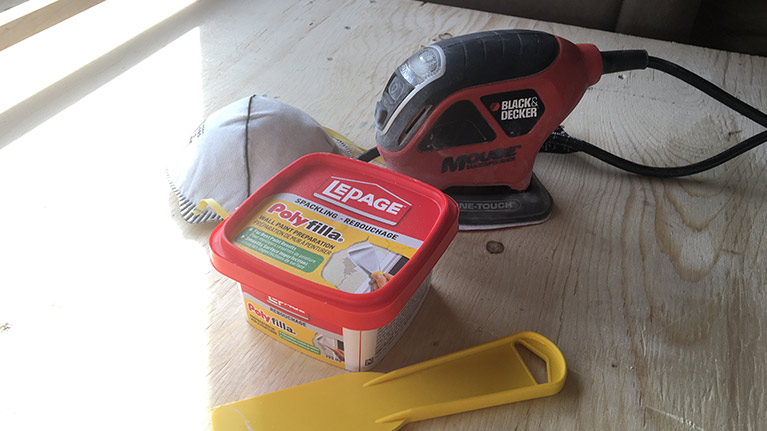 We bought the new RV, Explorker2 for $109,000 CAD. Much cheaper than Explorker2 which, when all was said and done, was around $135,000 CAD. Because our intention with Explorker2 is to live in it full time within the next year, we wanted to transform the space by making it feel like ours. Just like you would do when you buy a new two-story house, condo, or bungalow that doesn't feel quite right.
Check this out for all Explorker2 renovation details.
Here's a running tally of everything we're spending money on. While the idea of this post came out of a necessity to keep our expenses in check, we thought it could also be helpful for those that may be interested in renovating an RV, so that you know the complexity of the project, what to budget for, what to do/not do, etc.
The total for renovating our RV from start to finish (the process took 7 weeks) was $33,959 CAD (or $27,021 USD)
Here's a breakdown of the costs (all in Canadian funds)…
$1,967.48 Technology: Kevin's all about the tech! And, since we're building our dream home, we went all out with the options including, a Touchstone Fireplace (model #80014 Sideline 36")*, a Touchstone TV Lift*, a Sony TV (for TV lift in main area), Engine Code Reader, SensorPush (temperature sensors)*, Surecall fusion2go 2.0-RV (cell phone signal booster)*, Projector for the bedroom (cheaper and takes up less space than a TV), Garnet SeeLevel II tank monitoring system.
$2,381.42 Plumbing: The Corian counters we'd planned to replace were molded with sinks in them.  Not only did we need to purchase kitchen and two bathrooms facets, we ordered a kitchen sink and two bathroom sinks. Also, a 1.5gpm low-flow showerhead. Then, because the faucets were household faucets and not RV faucets, we needed to hire an RV plumber to come over and hook everything up, creating custom fittings for everything. The faucets are gorgeous, so it was worth it… but definitely an unexpected cost.
$8,006.07 Painting: includes Benjamin Moore paint, trays, brushes, primer, stain, frog tape, sanding paper, respirator, putty. We also hired a company to help us spray the cabinets. This included filling all of the previous holes, spraying with three different colors, installing hardware, and more. They let us down in a big way, so we can't recommend them. And we ended up having to complete the project on our own… so hot mess there. The colors we chose for the cabinets were Kendal Charcoal, Chantilly Lace, and Shelbourne Buff. Wall color is Chantilly Lace.
$4,717.96 Flooring: removal of tile and vinyl plus install of new Armstrong Luxury Plank in Limited Oak Chateau Grey.
$867.29 Lighting: The 12V LED pot lights that came with the unit were weak. The light produced from them was sad and completely useless. So, we ordered these 2W LED ceiling lights. We also ordered two of these wall lights for either side of the entertainment unit and this semi flush mount in chrome, plus 12V edison-style LED bulbs (it took me FOREVER to find these mostly because I didn't know that they existed and didn't think to actually Google it). For the bathrooms, we found these wall mounts small enough to fit on top of the mirrored doors in the toilet room and bedroom vanity.
$16,029.53 Decor: Sprucing things up and trying to do it on a budget which totally didn't work when we discovered we couldn't reupholster one of the couches that came with the unit. Instead of buying or making something we knew wouldn't be comfortable, we opted to fork over the cash for a Lazboy Reese reclining love seat which set us back… a lot. All in all, we lucked out on a couple of things but got annihilated in other areas. Decor includes hardware (kitchen, bathroom, bedroom), backsplash (kitchen, bathroom, bedroom), Stikwood Samples (couldn't believe they charged so much for samples at $54.08 for 4 samples), wood (maple to build the media center, chalkboard wall, table, and slide out trim), laminate bed skirting, Xtrema Ceramic Cookware*, door handle (bathroom), , glass inserts for kitchen cabinets (from Urban Glassworks), window treatments including motorization, dining chairs, and wallpaper from Rebel Walls (plus instal), privacy curtains, and corian countertops (in Glacier White).
$14,665.25 Electrical: The unit came with one solar panel, but with what we want to do with Explorker2, one wasn't enough. We paid Empyreal Solar to install the panels as well as change out the inverter, but as soon as the install was done, a bunch of not-so-awesome things happened with the electrical, including blowing our entire Aladdin system, busting the air compressors on the leveling system resulting in a cracked windshield, and more. He didn't take responsibility for the issues (we had no electrical issues beforehand), so we had to pay Springbank Truck Repair to fix his mess. In the end, we spent WAY more than we'd wanted. We hope that Empyreal will see that the issues were caused by a faulty install and cover some of the additional costs. Let's see how that goes. Electrical includes solar panels, solar charge controller, inverter, covers, and receptacles. Another huge electrical cost was installing backup cameras (ours broke as a result of Empyreal disaster), hard wiring the Surecall cell signal booster, and installation of the tank monitoring kit.
$387.31 Tools: We have so many tools already but extra ones were needed. We ended up buying angle clamps, 35mm drill, rabbeting bit, brad nailer, and rivets for slide out.
$996.22 Other: Lots of random things we'll bunch together to make my life easier. Includes our personalized license plate (XPLRKR2), recycling fees, Camco 45192 Sunshield RV Vent Insulator, new chassis batteries, and headlight replacement (Lincoln Navigator 98-02).
$14,335 Selling Our Stuff: Everything we own, basically. Well, except for about 6 boxes of special things and a king mattress (we do love that mattress!) All of Leanne's crafting supplies, a couple of RV couches, sofa bed, kitchen table, our Toyota 4Runner, many kitchen appliances, garden tools, photography equipment, all of our pots and pans, vacuums, sauna, everything.
*In exchange for an honest review, more details coming soon!