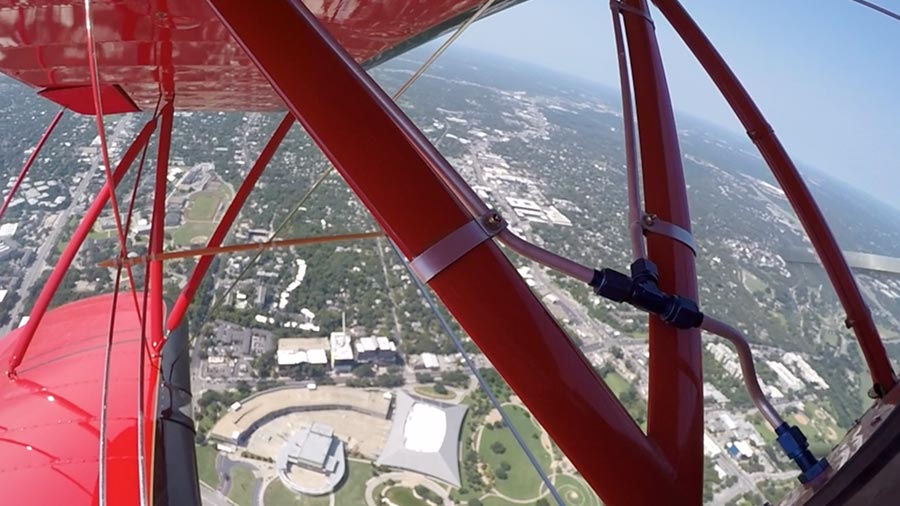 A one-day adventure through Austin Texas.
We've visited ten US cities in the last 2 weeks on the second The Keto Diet Book Tour, and have three Canadian cities left to go.
The hustle bustle of the schedule hasn't allowed for too much explorking time, sadly. Mornings are reserved for locating breakfast and boarding the plane to the next destination. Afternoons are filled with rental car shuttles, lineups, quick lunch spots and naps in the car or at the hotel before we get ready and head to the event. In the evenings, after our 2-hour signing events, we have just enough energy left to order food, eat, and snuggle up into bed to repeat the same process the next day.
Thankfully, we had a little break in Austin Texas where, for one whole day we had no plans whatsoever!!
Here's what we did with our time…
Rob from Austin Biplane took us flying over Downtown Austin, Lake Austin and Lake Travis. It was fabulous! I (Leanne) got pretty nauseous about 5 minutes in and it lasted through the afternoon long after the flight. But, it was totally worth it and I'd do it again. Plus, I didn't actually vomit, so win!
Then, we went to the YETI store and purchased YETI bottles. I got a 26oz YETI bottle and Kevin got a 36oz YETI bottle. We've always wanted these bottles as replacements for our smaller drinking bottles that hold too much pressure which have been known to explode all over everything when carrying hot liquids. So far, our YETI bottles have carried warm things and cold things, and they're awesome. No explosions!
Lastly, we visited the Austin Museum of the Weird which was exactly as horrible as we thought it would be. Admission was $24 USD for two adults, and we'd recommend it for the comedic factor. If you have an hour or so to blow, and you're looking for a good laugh, go in with an open mind and have fun with it.
We have another free day in Los Angeles where we've booked a VIP tour of Universal Studios California. We have a new camera that we'll be testing out while we're at the park, so watch for the video soon!