What do you get when you blend a space shuttle with a luxury hotel? A Marathon Coach. Just kidding, but it's pretty close. Mal and Miki at Marathon Coach let us look behind the curtains of a place where the magic happens and dreams come true, Marathon Coach. Marathon Coach builds luxury motorhomes by taking a bare-bones Prevost bus and filling it with whatever the customer wants. And we really do mean whatever. Dreaming of an RV with a roof-top patio? Done! How about a putting green? Multiple bunk beds? You got it!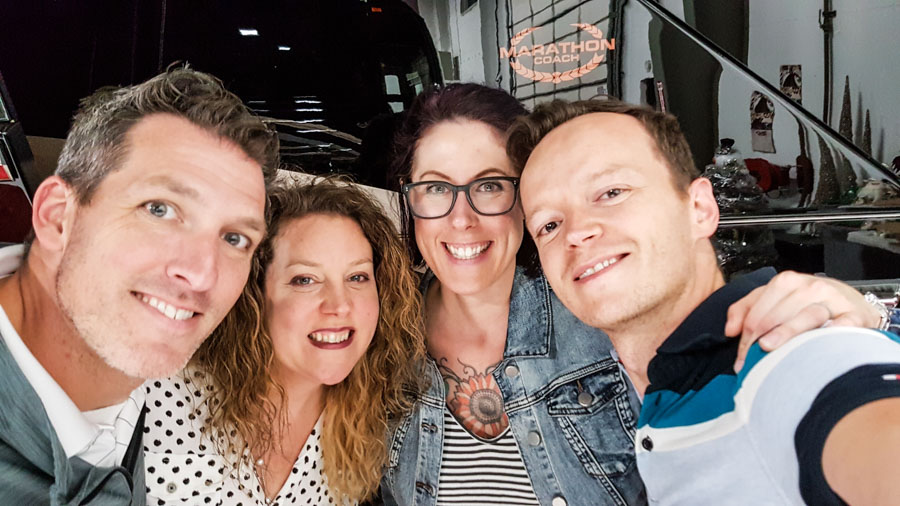 A picture of us with Miki and Mal in front of a Marathon Coach
We reached out to Marathon Coach about stopping in for a visit before we headed to Oregon as part of Operation Coburg. Surprisingly, they were quick to reply. During our visit, we spent 4 hours adventuring through their massive facility in Coburg, Oregon, walking through fully finished coaches, a bare-bone Prevost bus that was being prepared for – whatever the customer wanted, the cabinet making department (which had a crazy awesome CNC machine that Kevin can't stop talking about), the massive paint booths… It was an RV'ers dream.
Join us as we walk through the facility!
If you want to explore one of their coaches yourself, we created a virtual 360-degree click-through tour.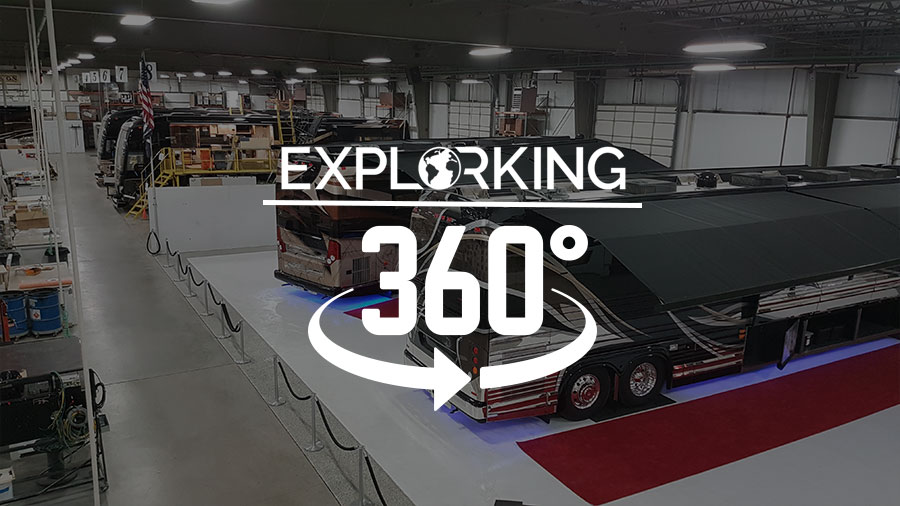 Everyone we met at Marathon Coach was incredibly friendly, helpful, and excited to part of it – there was magic energy in the air. Kevin even got to chat with the engineer responsible for battery systems about whether we should convert Explorker2 to lithium – oh what a joy!
A Marathon Coach will set you back a few extra dollars, but isn't that the reason why you are an entrepreneur or thinking about becoming one? If you aren't quite ready to cut a check for $2.5 million (we're nowhere close, but we love dreaming!), have a look at their used coaches. Before you do, know that they can customize a used Marathon Coach to your liking as well. On that note, if you have a motorhome and want Marathon Coach quality, they remodel non-Marathon RV's, too.
After our thrilling tour at Marathon, Kevin and I sat on the couch in Explorker2 dreaming up what would be in our Marathon Coach…
White exterior, modern interior
Lots of solar panels to keep us charged
Extra large holding tanks
Even more lithium-ion batteries
Power outlets everywhere
Space for a desktop CNC machine and 3D printer
Individual working stations on either side
Bathroom in the back of the coach
King bed
And of course, a roof-top patio
There are a couple of things we didn't like about the Marathon Coach setup, which we thought we should share with you. First, the two-piece windshield and side windows in the cockpit have thick frames, taking away from the view. We just love the massive windshield in Explorker2. Second, these coaches only come in 45-feet which massively limits the spots they will fit into.
Without spending a month or two in one of these, it is tough to tell which things are practical and awesome and which things we could go without – but based on what we saw, these machines are pretty dang incredible, durable, and impressively planned.
Thank you Marathon Coach, for the amazing tour!