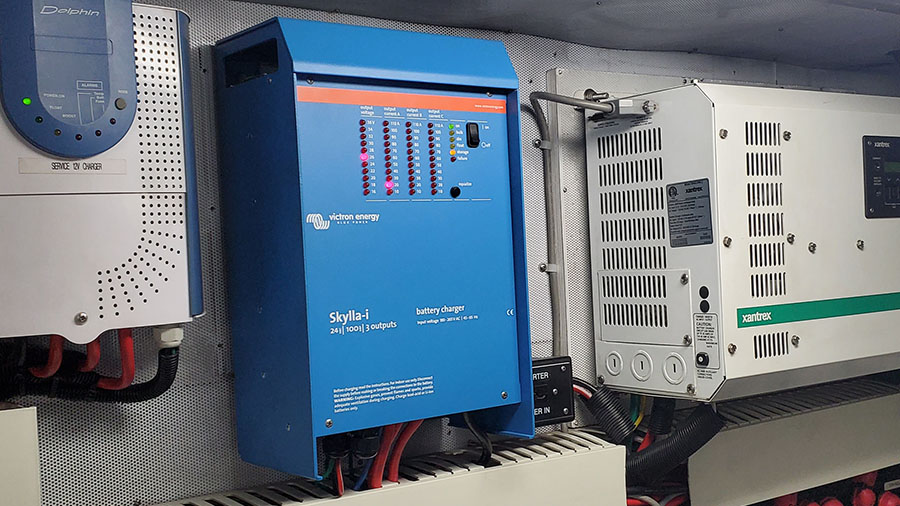 We previously had poor interactions with Victron support, but we were tied up to a dock somewhere in the past. This time, not safely tied up at a dock, we were out cruising in the Ragged Islands and Jumentos when our new Victron charger started to cause issues. The population in that area of The Bahamas is less than 100 — no marine electricians. We reached out to Victron in an attempt to get some help, maybe guidance on the manual charger settings, but this is what we got in response:
We did reach out to the company that installed the charger and 12 big group 8D batteries a few months ago. They were great, but other than replacing the charger, and they weren't able to help much. There are quite a few settings on the charger, including a manual configuration option, which might have helped us get by — and saved us a few thousand in fuel costs, marina stay, import duties, and shipping charges.
If you think that Victron is high quality and reliable, think again. This wasn't our experience. If you think that Victron will be able to help troubleshoot, like many other marine companies, think again. That also wasn't our experience.
Victron is definitely an outlier when it comes to supporting efforts, or the lack thereof. We've been in touch with many companies, asked questions, and we've always received some effort to help — sometimes more, sometimes less, but always some. Remote support from companies like Headhunter, Beetronics, Xantrax, YachtDevices, DigitalYacht, and Maretron has been really great and makes buying their products a fairly easy choice.
The Temporary Workaround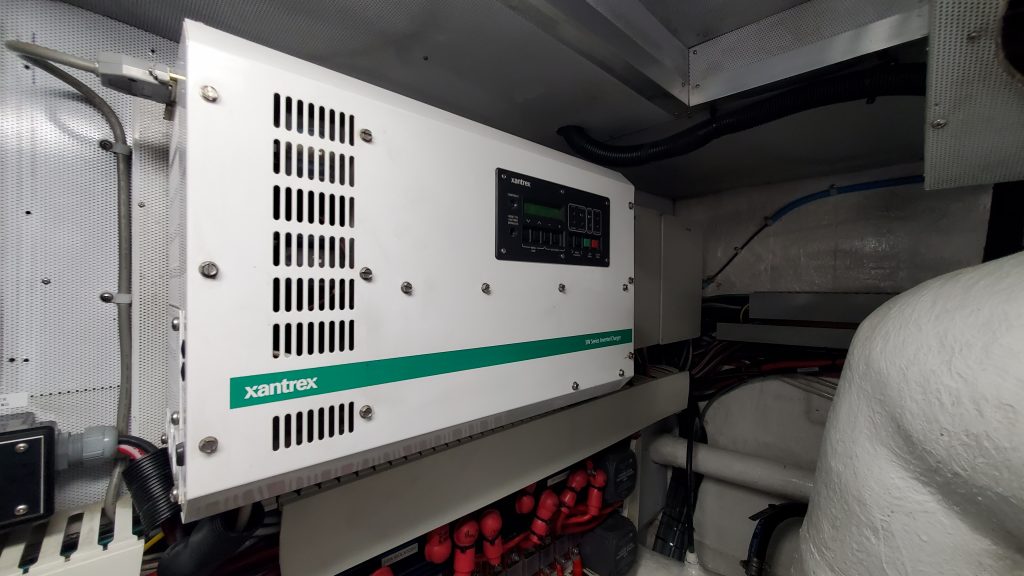 Without our 24-volt battery bank, we would be in serious trouble, as it provides power to the windlass, stabilizers, navigation lights, toilets, and other critical boat systems. We eventually were able to use the Xantrax inverter-charger to charge the inverter bank. And we quickly figured out that if we turned on the Victron Skylla-i after about an hour of the Xantrax charging, the Victron charger would go into "storage" mode, drawing MUCH less current and providing a 10-20 amp charge to the 24-volt house battery bank.
Victron Warranty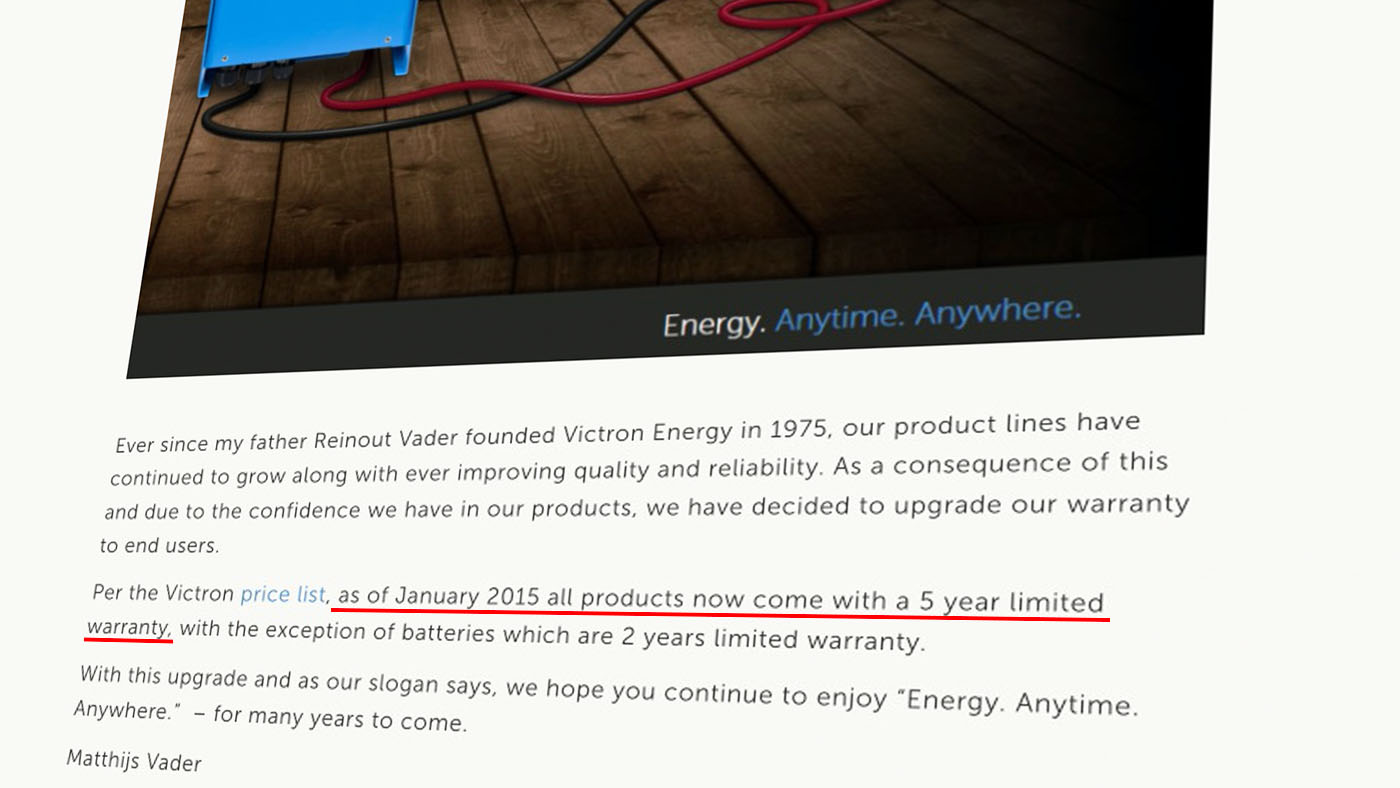 Victron advertises a 5 year limited warranty. This charger should fall into that warranty period, but since we paid for a new charger, we're not sure what we would do with a replacement charger. Also, given the attitude and tone of the replies from Victron, we doubt that we'll get our $1,900 USD back (or recover any of the associated costs).
The Vendor Model
While Victron does not sell directly, customers purchase their products from various sources. Sometimes through a seller on Amazon, where support essentially doesn't exist. Sometimes a local marine services company has little understanding of the inner workings of the equipment or how to configure them outside of what the installation manual says. MasterVolt, a direct competitor, has a similar business model. Still, with some digging, we were able to find an email address at MasterVolt, and one of their engineers helped us reconfigure things on our catamaran (that was all MasterVolt). Support from the manufacturer is critical when you're buying the equipment and having it installed and when you're buying a used boat where the equipment vendor is unknown. Whenever you choose, choose a vendor who provides some level of support, especially when the product is necessary for your boat to work — like a battery charger.
Update: It was the Victron Skylla-i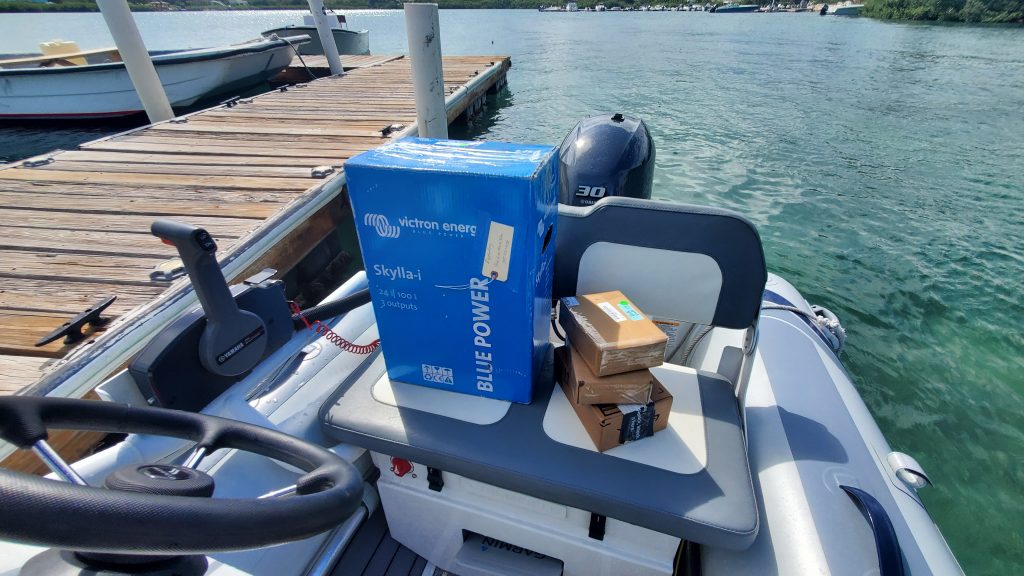 We were able to find a drop-in replacement charger in Florida and arrange for it to be flown into The Bahamas. Swapping out the charger took 30 minutes — and solved the problem. The conclusion to this unplanned adventure is: that our 14-month-old Victron Skylla-i started malfunctioning, and replacing it solved the issue. No support from Victron, in any way, just rudeness.