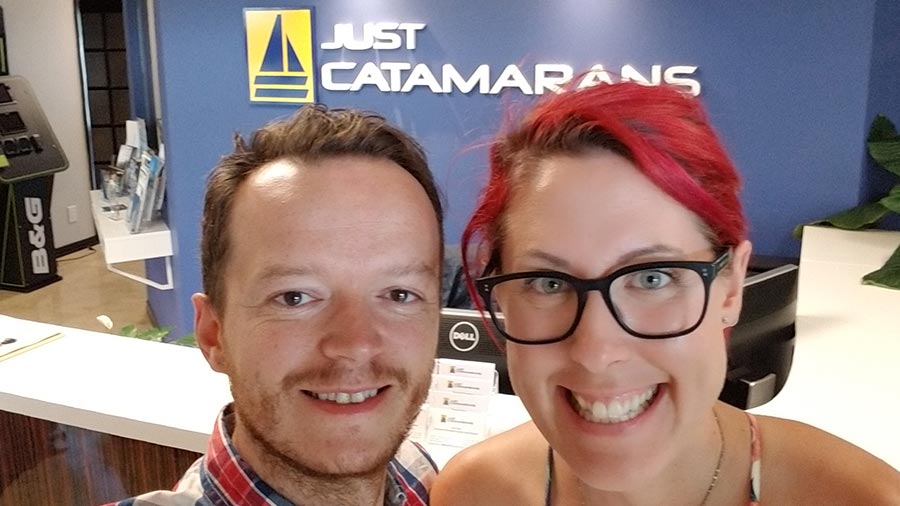 It's official, we've made an offer on a catamaran; a stunning Fountaine Pajot Eleuthera! Yes, you read that right: we are trading in the wheels and roads for seas and SAILS!
Do we know how to sail? No.
Have we ever lived on a boat? No.
Do we have experience living in tight spaces and not killing one another? YAS!
Basically, we'll be great.
First off – we would like to thank Gone With The Wynns for sharing their RV and sailing journey online. They've inspired us to see that the world is hungry for explorers and that young people (like us!) can go, be, and do the things we've always dreamed of doing. You can check out their blog here, and they're also on Pateron. We support them, and if you enjoy their content, you should too.
How did we end up here? It wasn't an overnight dream. In fact, right around Christmas time we started feeling like the full-time RV life wasn't totally for us. Don't get us wrong, we LOVE our home, and we're sad to let Explorker2 go (if you're interested in her, send us a message on IG), but we don't see ourselves as full-time land explorers. The world is calling out to us, and we decided that a boat is the best way to see it. Though we did dabble a bit with the idea of building an expedition vehicle, we were more excited for ocean.
From the Christmas dream to now, we've researched the heck out of boats. We started by looking at mono hauls, then to catamarans, and then our research guided us to trawlers. Catamarans are sailboats with two hulls, and trawlers are slow moving power boats; two very different boat types. Pretty sure everyone thought we were crazy when we told them we couldn't decide between the two…
We also investigated having a custom trawler built for us – what an experience that would have been! After whittling it down to a couple of builders, we jumped on the phone with Chris from Metal Shark Boats to see what was possible. Turns out, building your own vessel is a tad bit pricey and, while we would have loved to build something awesome with Chris (he's a rad dude) our piggy bank made this a bust.
So, we went back to the catamaran vs. (pre-built) trawler conundrum, leaning very very very much on the trawler side of things. We were working with Jeff Merrill (Jeff Merrill Yacht Sales) with all of the trawler research and Larry Shaffer (Just Catamarans) for the catamarans – both very awesome people with oodles of patience for the process.
A couple of weeks ago, we had a plan to fly to Florida for business, and just as we were trying to figure out the timing for it, we stumbled across a catamaran that caught our eye. Since we were making the trip to Florida, we worked with our brokers to book showings for the catamaran and a couple of trawlers that we were so excited to see.
(we will write another post about our decision process and how we ended up with a catamaran…)
We saw all the boats, and just couldn't get the catamaran out of our heads. She just felt so perfect! So, we made an offer, it was accepted, and here we are. So, what now?
Here's the process we'll be following until we (hopefully!) take possession of her next month:
Purchase Process
Day 1 – Our broker made an offer (and the seller made a counteroffer that we accepted)
Day 6 – 10% deposit into an escrow account (heads up Canadians – it takes FOREVER for CA funds to arrive in the US)
Day 19 – Haul out & survey, which is the inspection of the boat hull and systems out of the water by a surveyor
Day 22 – Sea trail, which is the inspection of the boat while at sea/underway by the surveyor
Day 27 – Acceptance, conditional acceptance, or decline from us pending the results of the sea trial
Day 34 – Full payment to the seller & taking possession
Day 35+ – Education! We've booked sailing classes with Blue Water Sailing School to learn all the things
More coming soon!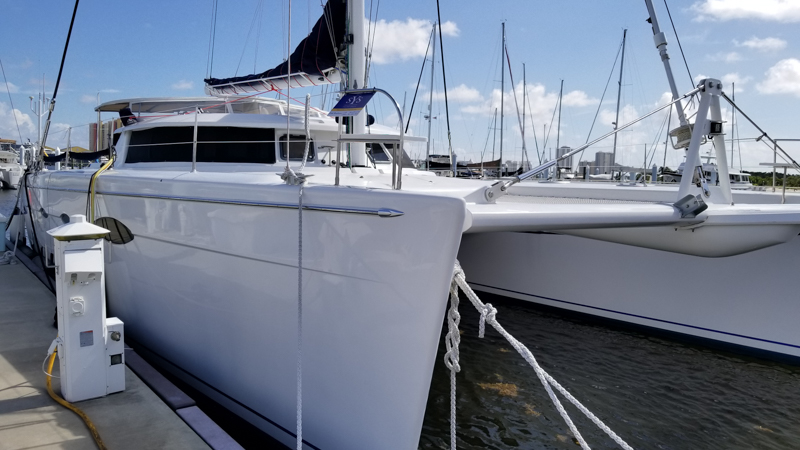 Soon, this will be our new home; a 2006 Fountaine Pajot Eleuthera 60.