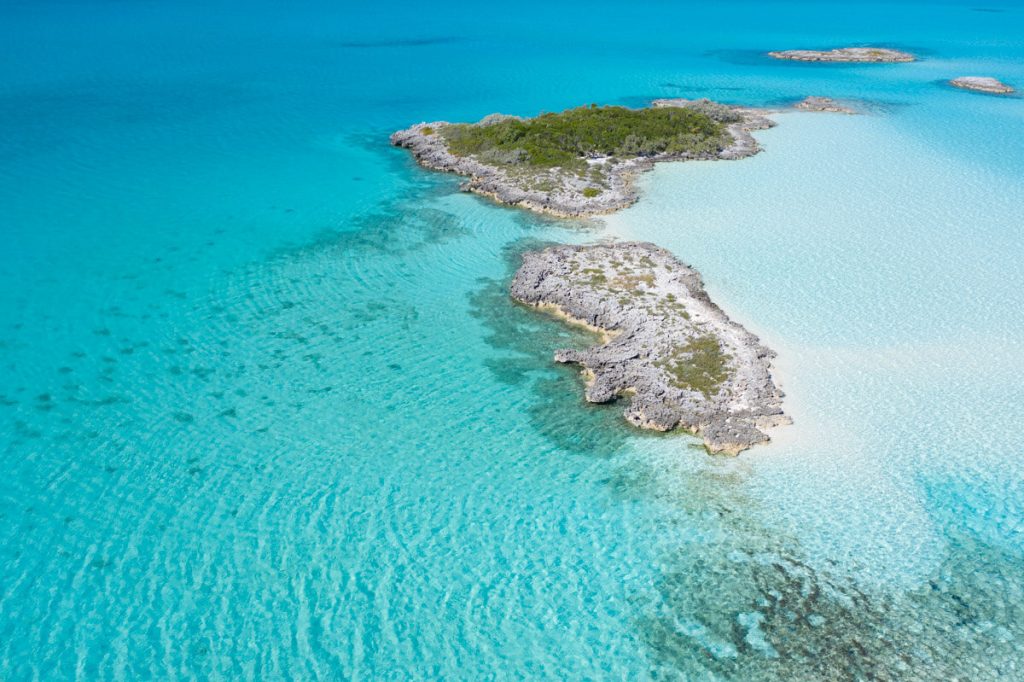 The infamous, coral heads of the Exumas, have been on our minds since we left New Providence Island. We carefully charted our route from West Bay in New Providence Island to Highborne Cay — you can get the coordinates of our route in our last blog post.
The Exumas are great when the wind is blowing from the East because there is a lot of protection here, and most often, the direction of the wind is great for sailing. However, when the wind shifts to come from the south, west, or north, things become more tricky.
Sadly, though it may look like we've seen so much already, our Exumas trip has been cut short due to wind shifts and we had to hightail it down 30 miles or so skipping over a bunch of pretty things. Lucky for us, Seamlessly goes in all directions, so we can always backtrack and see the things we missed later on.
Highborne Cay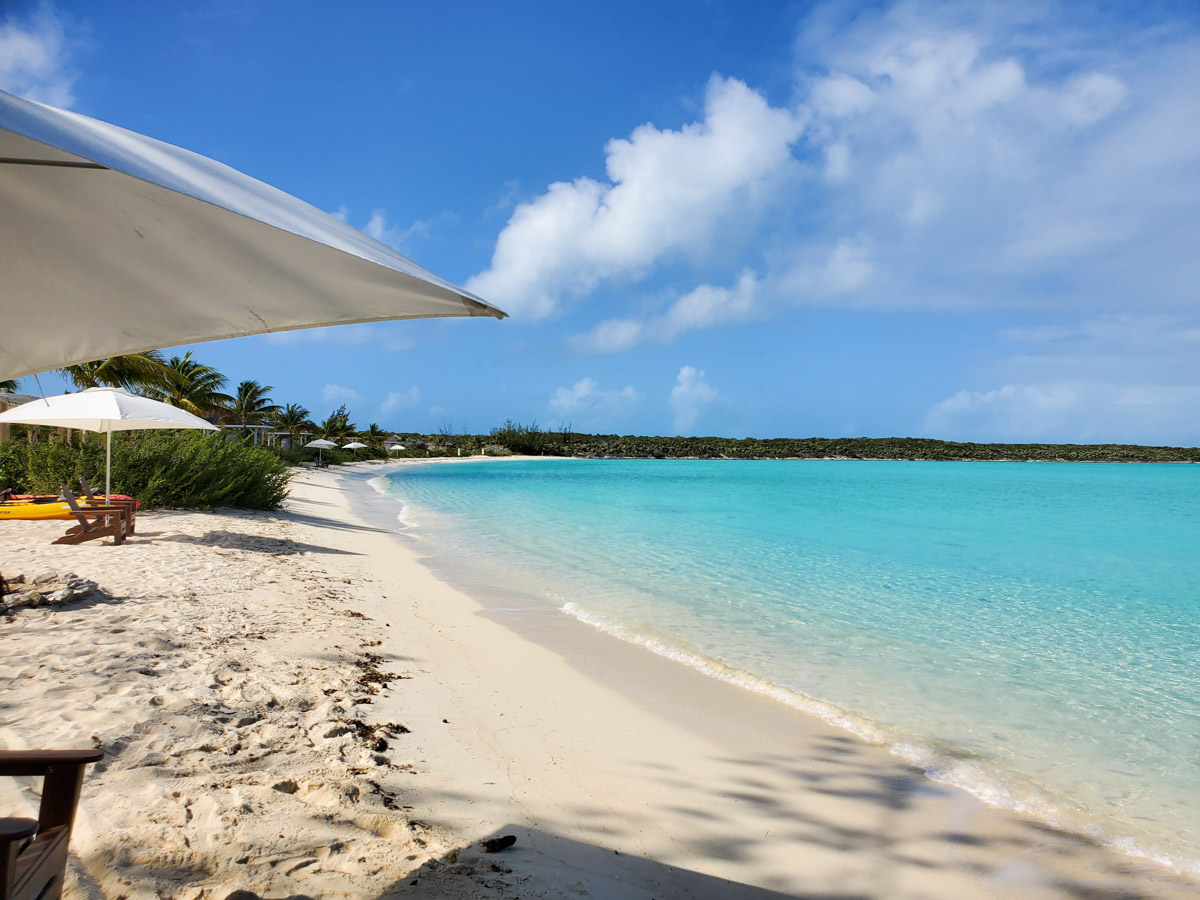 Many people had forewarned us that Highborne Cay can be a bit of a chaotic anchorage — and they were right. We spent a few days anchored here, and there was not one day where there wasn't a "problem boat" around us.
So here's the deal: A lot of people (groups of friends, families, that sort of thing) charter catamarans from Nassau and head to Highborne the moment they're out on the open ocean. You'd think that, in order to charter a boat for a week, you'd have to have at least some boating experience… but that hasn't been reality here at Highborne. All of the Moorings and Dream Yacht Charter boats that came zooming into the anchorage don't have their VHF on and don't bother to turn on their anchor light at night. Again – none of them had their VHF radio turned on — making it impossible to ask them not to anchor 50-feet in front of us.
Um, we did yell at one charter boat that was WAY TOO CLOSE and didn't respond to our calls on the radio. Meeting them on the beach later, they thought the whole thing was funny.
Ah well… when things like this happen, we remind ourselves how awesome it is that this is our life, where people only get to experience what we do 7 days out of the year. And yeah, some of them endanger others and that upsets us…
So, anyway… The holding here was pretty good once we had the anchor set, but we did drag approximately 150-feet before the anchor grabbed. There were quite a few boats around us who had to reset their anchor, or decided to drag a bit before grabbing hold of something on the bottom.
A bonus: the cell signal was very strong at Highborne Cay.
We took the dinghy into the (very charming) marina once the weather had calmed down. Highborne Cay Marina felt very authentic to the Bahamas. Nothing too fancy, nothing too flashy, just very natural, clean, and wonderful. The marina was clean and cute, with fixed docks, other than the dinghy dock. We paid $25 per person to get access to the island which included unlimited usage of the pedal bikes and access to all of their private beaches. If we did this again, we'd make a whole day of it, pack a lunch, our bathing suits, towels, and spend the whole day cycling from beach to beach, trail to trail, and really stretch the fee as far as it could go. All in all though, our 3-hour visit was worth it.
The private beach (24.719723, -76.824367) is incredible, so if you're looking for a private venue, maybe for a wedding or so, then this is a place to check out.
Our plan was to have lunch at the restaurant, but we got our days mixed up, and the restaurant was closed that day. There is a small store beside the marina office, where we found a bag of 3 carrots, 3 heads of romaine, 2 small red onions, and a cold beer, paying a whopping $41 USD for it all… a steal of a deal when you consider a small jar of honey was $41 USD alone.
The coolest thing about Highborne Cay is the public beach (24.719742, -76.830096). It isn't the most beautiful beach we have been to, but many of the cruisers take their dinghy to the beach to hangout with one another; a common place for all, and that's where we made a whole bunch of new friends.
We spent a few weeks with our new friends sailing Adriana (Zena and Craig) and Yellow Bird (Kyra and Jack), whom we met at this very beach.
Allan's Cay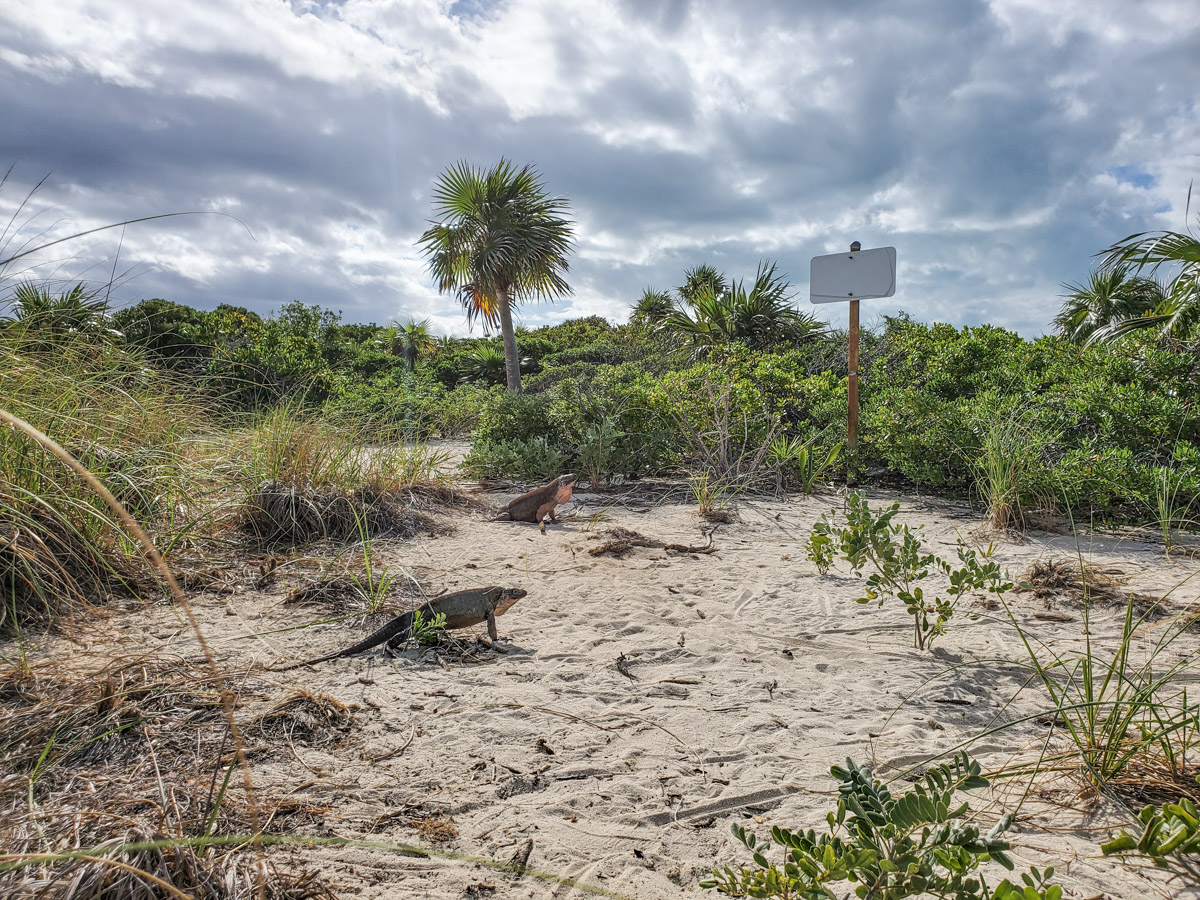 We did not take Seamlessly over to Allan's Cay because it just didn't make sense with the weather (plus, the routing was tight!). We did, however, take the dinghy to Allans Cay to see the iguanas — twice!
Taking the dinghy from Highborne Cay to Allan's Cay the first time was great, with just Leanne and I. The second time, we thought it would be a good idea to have 6 people in the dinghy – after all, the max our dinghy can carry is 6 people – but we quickly learned that 6 people is 4 people too many. Even though our dinghy is rated for 6 persons, it's just too much. Long story short, it was a bad idea, and the maximum is now 4 people. Or, 2 people, 1 dog.
The little beach is incredible (24.742571, -76.840054), and we even saw a couple of rays. The iguanas are, well, iguanas.
Norman's Cay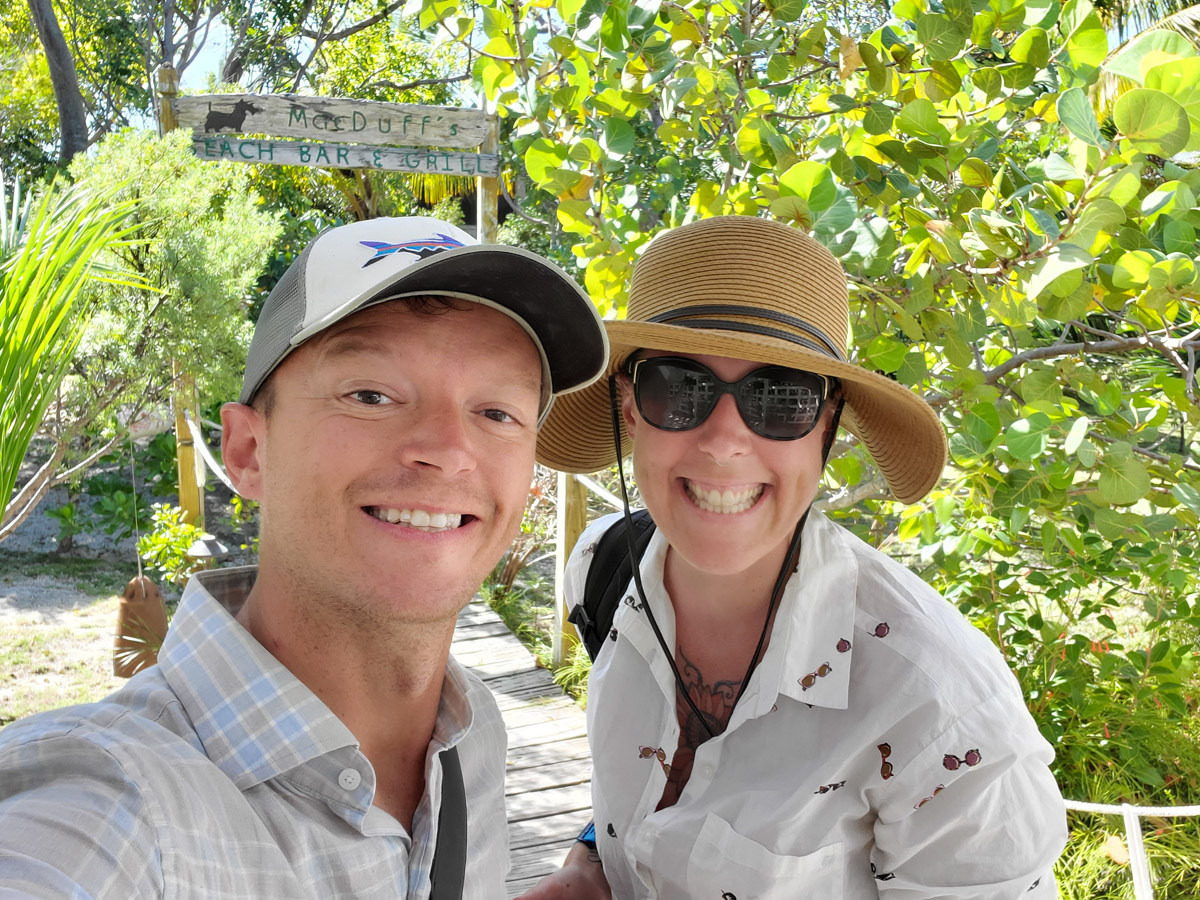 Mother nature only gave us one full-day at Norman's Cay. So instead of doing the usual "touristy" things like snorkeling around the sunken airplane, we hung out with our friends Steph and Roy instead, who just happened to be staying at Norman's Cay. This is another amazing place that would be worth flying to, to spend a couple of days relaxing at.
We anchored off the South tip of the island. Navionics and Explorer Charts were giving us conflicting depths, so we decided to play it safe and anchor out a bit further.
We had a strong cell signal at Norman's Cay which we soaked up as much as possible before heading to our next destination where we knew we'd have none.
Shroud Cay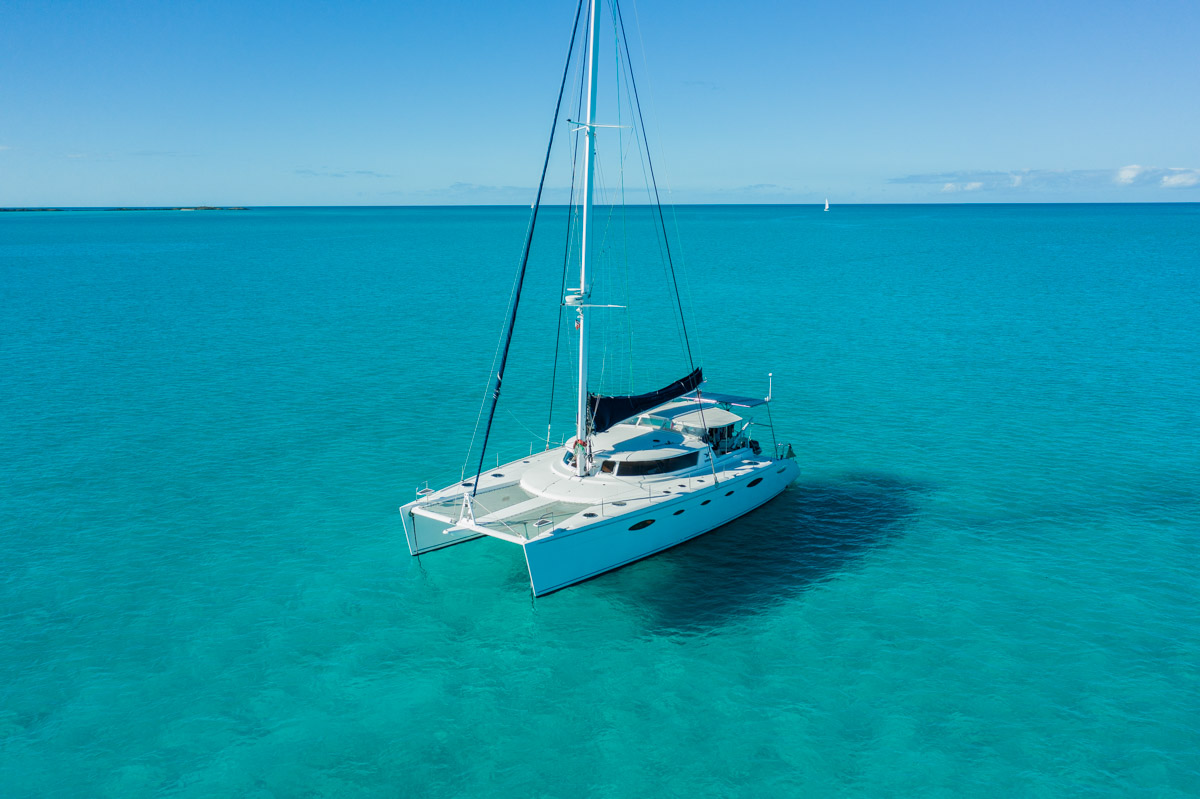 We could ramble on forever about how nice Shroud Cay is. Our opinion? It is just one of those must-see places. This island is only accessible by boat and is in the Exumas Land and Sea Park. The water is absolutely incredible, the beaches are picturesque, and the dinghy creek is breathtaking.