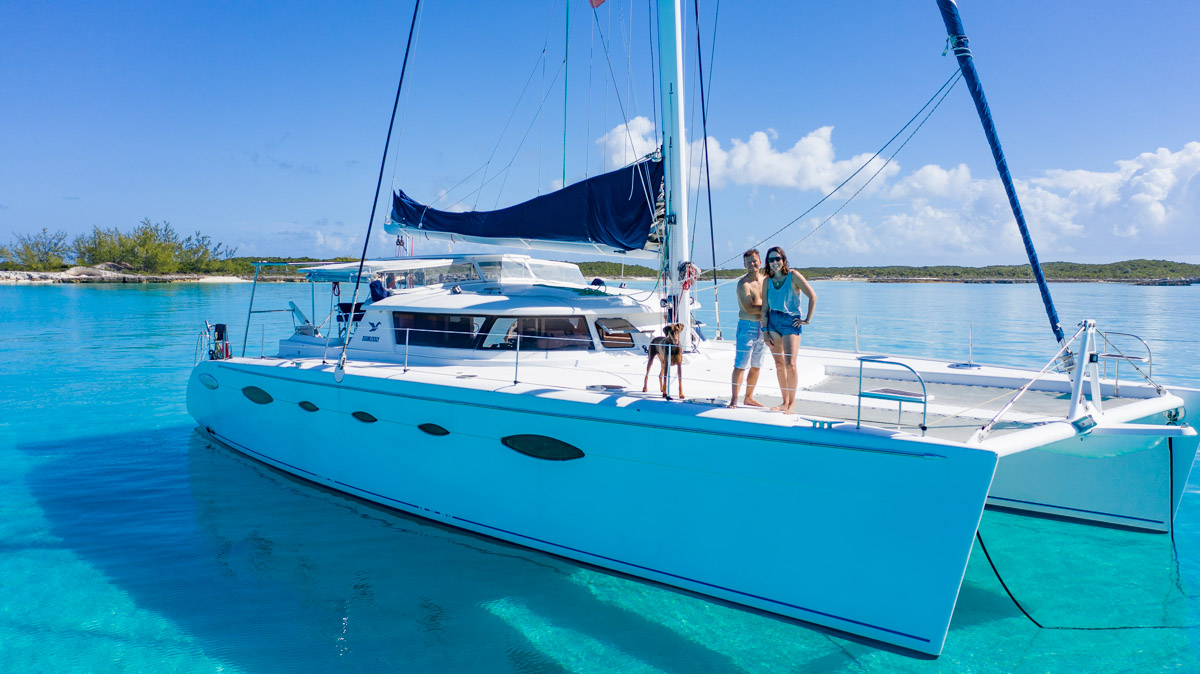 After we a great time at Shroud Cay, we sailed South, further through the Exumas. Our itinerary is constantly changing, largely influenced by the weather forecast. Back home in Canada, it's common to check the weather forecast for cold warnings once a week… here in the Caribbean, it's a multiple time a day activity to ensure we're in the right place if/when weather comes in. Think of it like consuming a constant stream of weather data. Our life IS weather.
If you're wondering how we get our weather information, wonder no more. We use Predict Wind right now, the desktop version mostly, to get ECMWF and GFS weather forecasts. The ECMWF and GFS are the weather models we primarily look at because we find they're the most-accurate, at least in this part of the world. And when we don't have cellular connectivity to download other weather options, Predict Wind connects directly to our IridiumGo (satellite internet) so we can get weather wherever we are.
We like Predict Wind, but it's pretty basic, and it can be buggy, and the desktop version of Predict Wind seems resource intensive – especially when looking at wind gusts. After chatting with our friends at TimeZero, they hinted at adding weather data via IridiamGo to their platform…. which Leanne got REALLY excited about. Like, dancing on the deck excited. We can't wait!
Pipe Cay | Compass Cay | Great Guana Cay | Staniel Cay | Cave Cay
Pipe Cay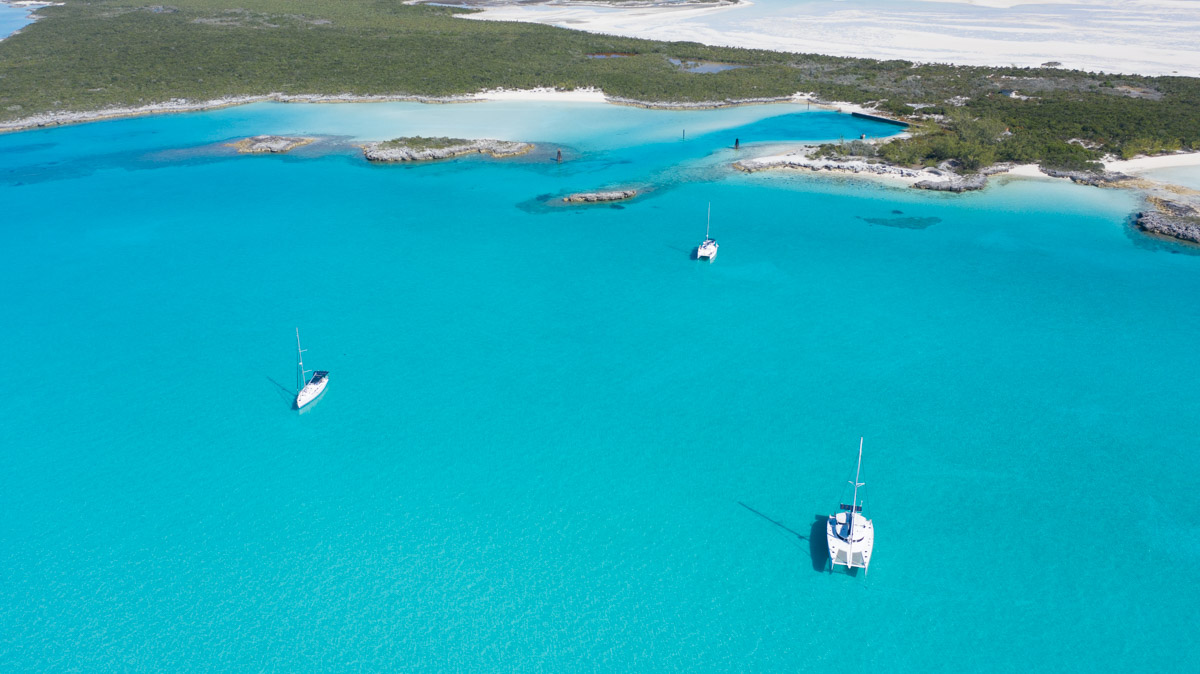 We sailed down from Shroud Cay with our friends on Yellow Bird (Kyra & Jack), and Adrianna (Zena & Craig) who we met during our time at Shroud and have been inseparable ever since. We all planned to drop anchor by Pipe Cay for the day before making our way to Normans. The Pipe Cay anchorage we chose (24.2381, -76.52145) provided enough protection and didn't require us to venture into very shallow areas — most of which would have required us to deal with tidal flow changes and current. There were two little beaches, nice beaches, but the beaches at Shroud Cay set the bar very high.
Compass Cay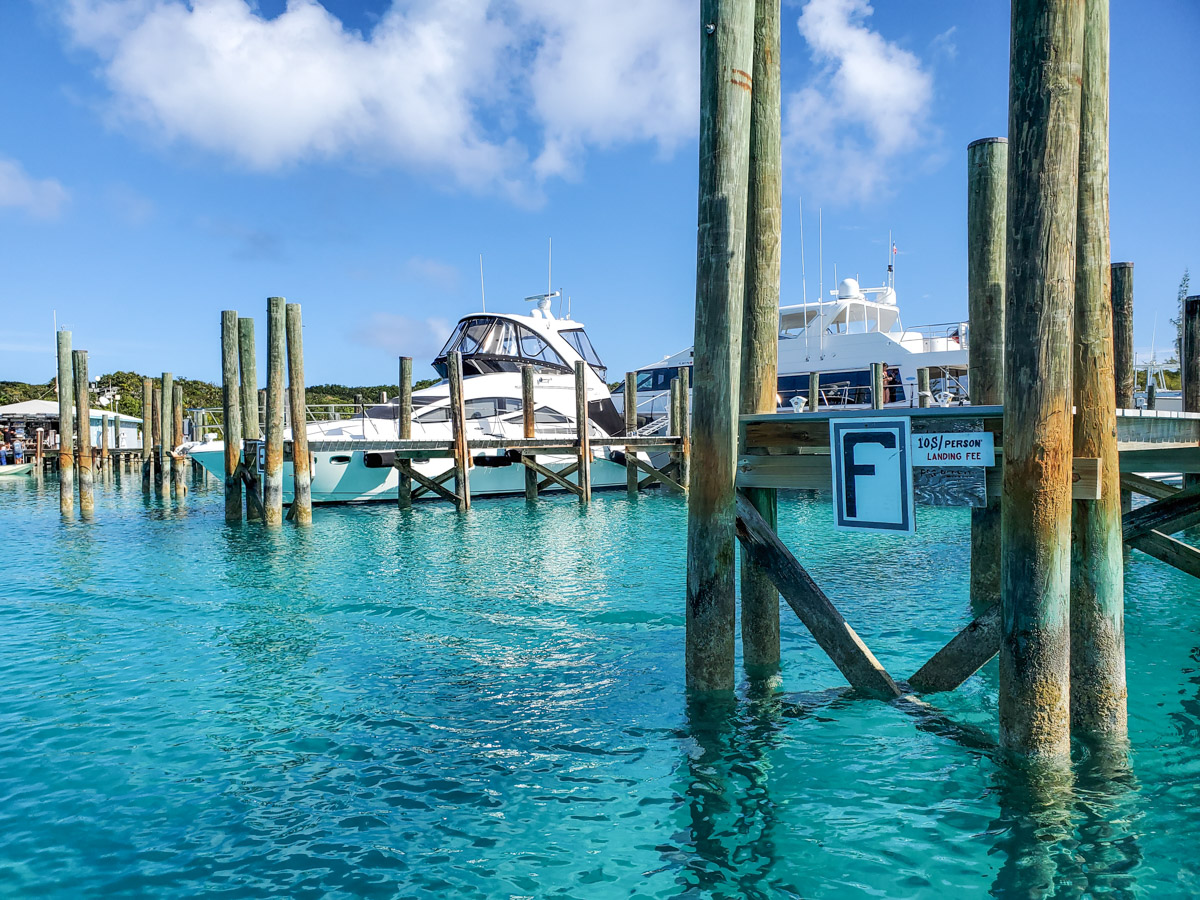 We unleashed our uncensored excitement about our dinghy on Instagram, proving once and for all how much we love our dinghy. Having a quick dinghy came in handy during our time at Pipe Cay when we left Seamlessly anchored in 9 feet of water and zoomed all through the islands surrounding Pipe without a care in the world. Richard (the name of our dinghy – Dick for short) is fast, loves adventure, and is always up for a good time – ha!
We zoomed through Pipe Creek (it was meh) and headed to Compass Cay Marina to check out the sharks and have some lunch… you know, do the touristy things — because after all, we are tourists here. We were exploring the area with fellow cruisers with two dinghies and six people altogether. We called the marina on the radio and found out that there is a per-dinghy landing fee in addition to a per-person fee totaling over $120 just to land the dinghy before lunch and drinks ensued… so we decided to skip Compass Cay Marina and make tuna salad instead.
Great Guana Cay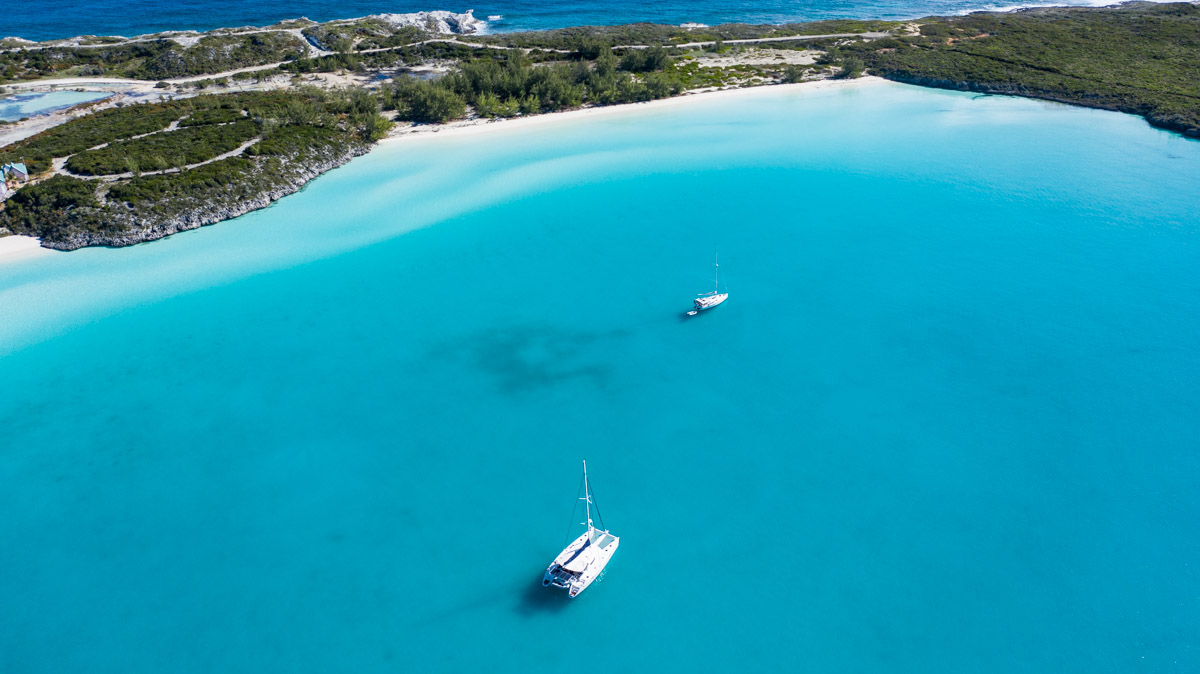 In preparation for some rough weather, we decided to tuck in close to shore in Little Bay, off Great Guana Cay (24.0797, -76.3863). This little spot turned out to be another amazing anchorage that we enjoyed for more than two weeks. We also had the option to tuck in by Staniel Cay (where our friends had decided to go), but we didn't like the idea of anchoring in a cut, having to deal with the current close to a lot of other boats.
We took the dinghy to the beach a couple of times. Black Point Settlement is a 30-minute walk away from the beach — The locals are very friendly and welcoming — and should you end up in Black Point Settlement, and not be allergic to gluten, you'll have to get some cinnamon coconut bread. Leanne was really sad she had to sit this one out. IT WAS SO TASTY?!
We dropped our garbage off in Black Point Settlement a couple of times, at the government dock. There is a trailer for garbage with a donations box, which makes dropping off garbage very easy. The laundromat is very nice here — by far the cleanest and best maintained that we've seen in the Bahamas.
There's also a blowhole, close to Black Point Settlement (24.101714, -76.393886), but when we checked it out, it was low tide, and there wasn't much action happening. Next time!
Staniel Cay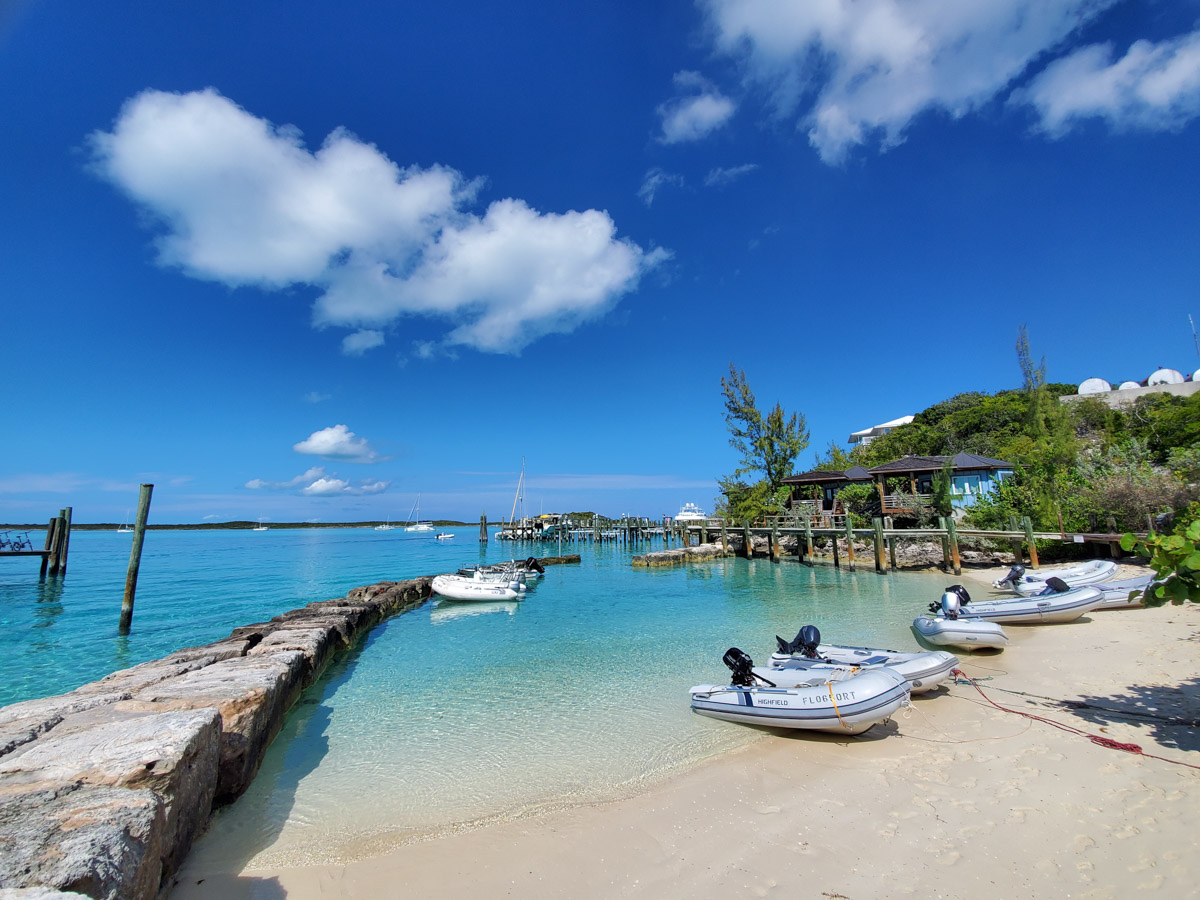 We said it before, and we can't say it enough — we are so happy to have our Dick (remember – the name of our dinghy….). Because of the weather, we skipped Staniel Cay and anchored by Black Point Settlement. After the cold front past by and the wind calmed down, we jumped in the dinghy and zoomed to Staniel Cay for the morning. It was only a 7-mile dinghy ride on a beautiful day.
We rented a golf cart for $50 for 3 hours and explored the island a bit. We wouldn't do it again, but we'd recommend doing it once. There are a couple of nice beaches and stores to check out, but the selection isn't the best, and the prices are quite high compared to other islands. If you can, rent a cart for 2 hours. That's really all you need to see all the things.
Our trip to Staniel Cay ended with a nice lunch at the Staniel Cay Yacht Club. It was good, and we would go again. Leanne loved the citrus salad dressing. Of course she's recreated it and now we eat it often, on just about everything. Nothing like a little restaurant inspiration to get us excited to keep traveling.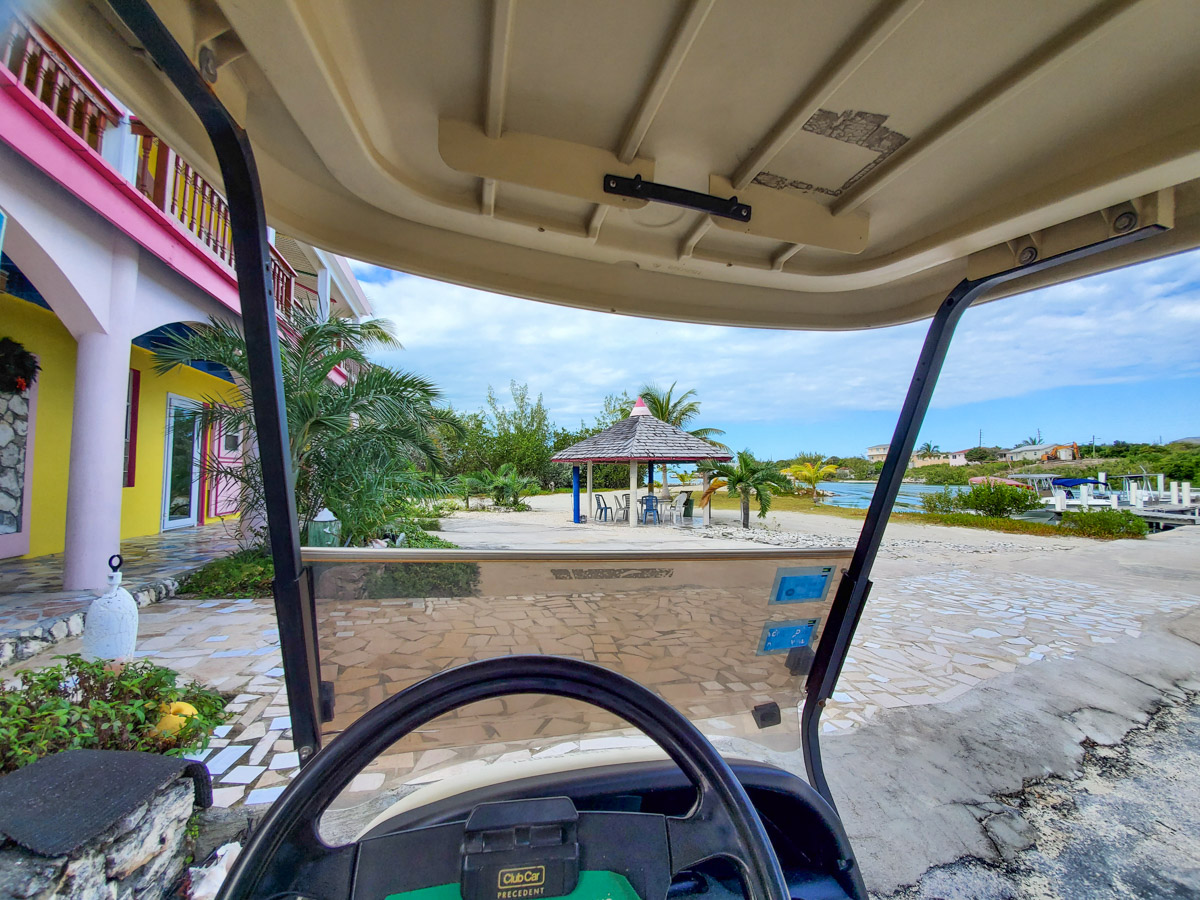 We tried to find a couple of ingredients while we were exploring Staniel Cay with the golf cart — but no luck.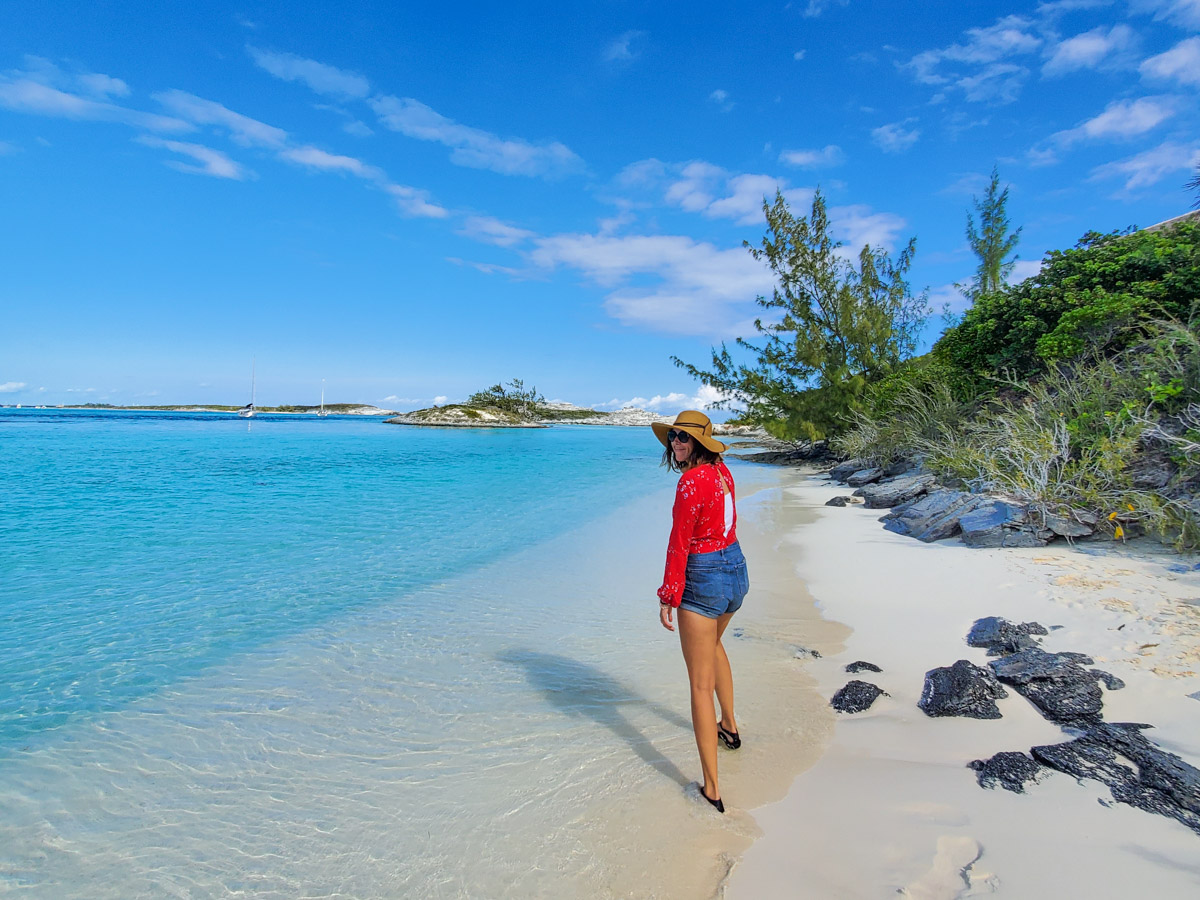 Leanne is strolling along
Pirate Beach
— checking out the tight anchorage we didn't want to go into.
Cave Cay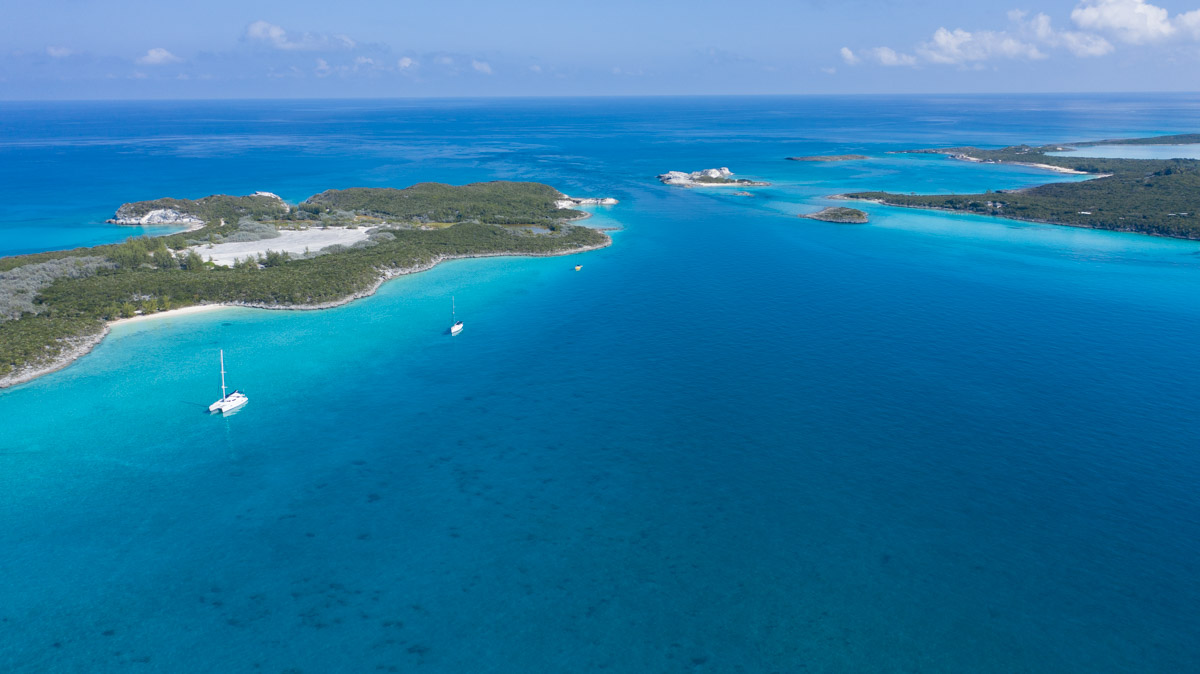 Unfortunately, we did not get to spend more time in this area. It was incredibly nice here. We were on our way to Georgetown in preparation for some nasty weather, when we anchored here for a night (23.509717, -76.269483). We left early in the morning, to catch the slack tide to go through Cave Cay Cut — which was a breeze. Don't worry, Cave Cay; we will be back!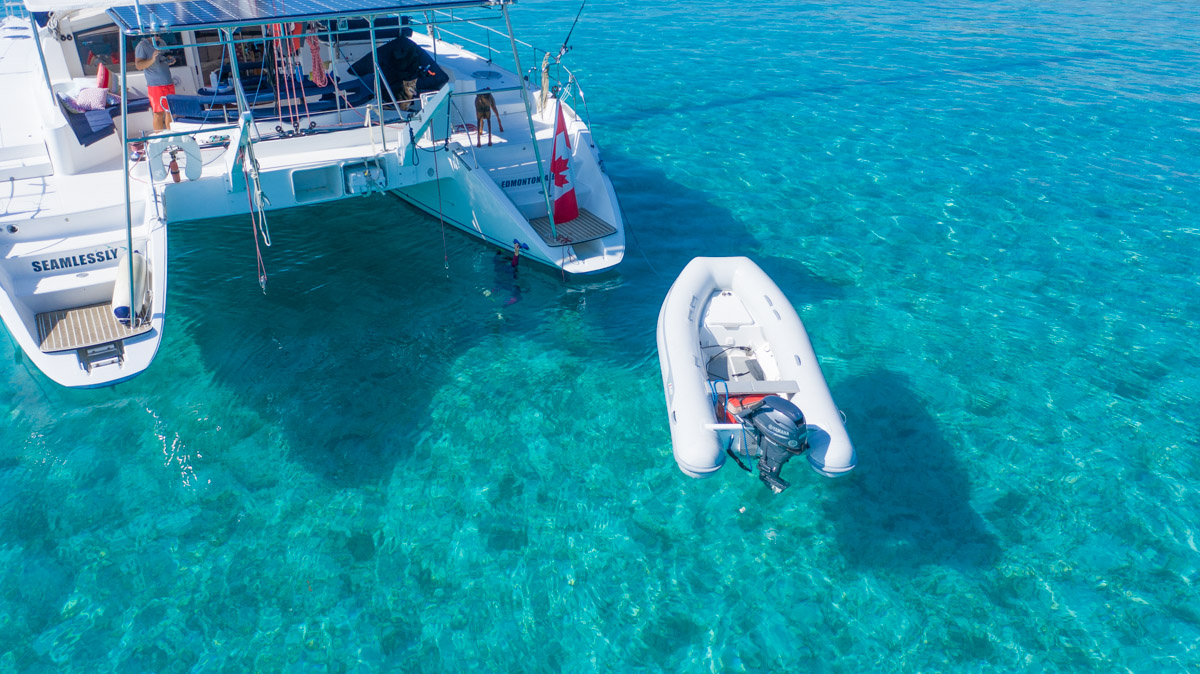 There was no stopping Leanne form jumping in — and taking the opportunity to wipe down the hull a bit.