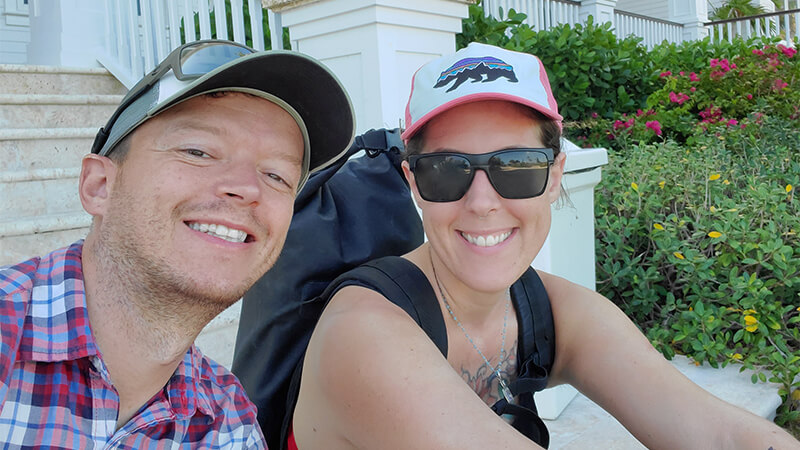 We are so excited to be back out on the ocean, this time for real (
see last blog post
). After our 22 hour journey from Fort Lauderdale to Chub Cay in the Bahamas, we're starting to remember why we love doing this.
Crossing the Gulf Stream was easy. We got confirmed our crossing window with Chris Parker from Marine Weather Center, just to be sure. Because of my (Kevin) tendency to get seasick, we are generally very mindful of the wave heights. Often this also means the wind isn't favorable for sailing, and we end up motoring. Just before we left, we found out about Reliefband 2.0, which is an electronic wristband to help with nausea (including seasickness) — it didn't work. Back to Meclizine for now.
We dropped the hook around 7:30 AM just outside the Chub Cay Marina (25 24.783 N 77 54.849 W), rested for a few hours, prepared the customs and immigration forms, and got in the dinghy. The marina was almost empty, with only a few boats. Clearing into The Bahamas in Chub Cay was easy, but there was an additional $90 fee (because it is a private island). The cruising permit was $300, which allows the boat to be in the Bahamas for 1 year.
Our original plan wasn't to come directly to Chub Cay, but rather to clear into The Bahamas in Bimini — but wind and weather led us back to Chub Cay. Chub Cay was our last stop before heading back to Fort Lauderdale and getting MultiTech to fix our windlass issue (amongst other things), so it is nice to be back and continue our adventure from here.