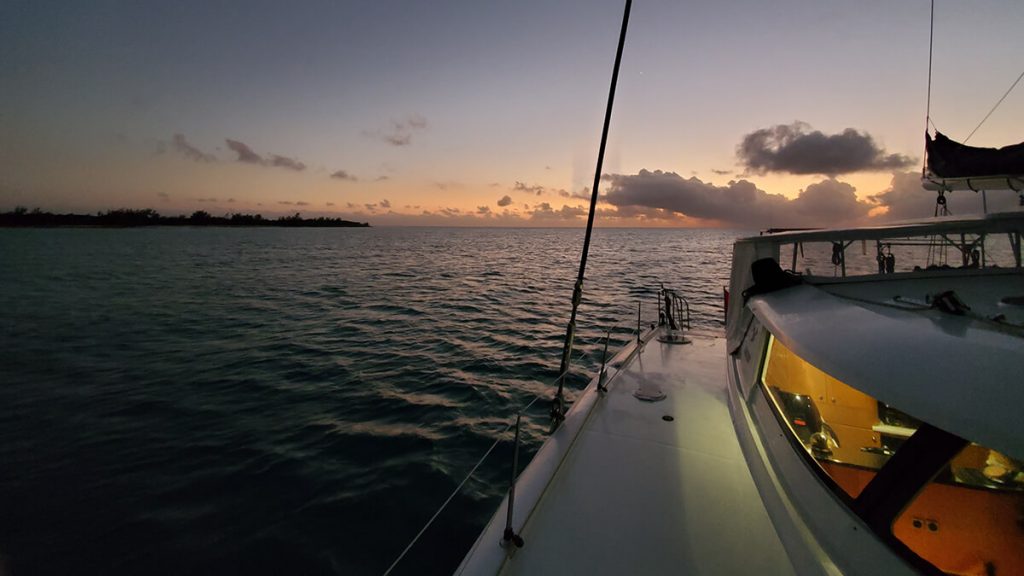 On our sailing journey from Fort Lauderdale to Chub Cay, we discovered a hydraulic leak on one of the fittings leading to the starboard cylinder, which ultimately contributed to us leaving The Berry Islands and sailing South to New Providence Island.
Background: Some catamarans have a mechanical link between the steering wheel and the rudders, while other catamarans have a hydraulic steering system. Either type of linkage system is designed to keep both rudders in alignment — after all, you don't want one rudder steering port while the other is steering starboard.
We exchanged a few emails with the company (High Seas) that installed our new hydraulic cylinders about our issue — and they identified the needed fix and booked a ticket to fly out to Nassau, the capital of The Bahamas. High Seas is one of the few GREAT companies who genuinely care about their customers. What is even more impressive is that High Seas fixed something that Fort Lauderdale Hydraulics installed incorrectly. They're a stand up crew and we couldn't be happier with our choice to work with them.
Here's an outline of all the things in today's post…
West Bay / Clifton Bay | Atlantis Marina | Our Volvo Penta Experience | Sailing to the Exumas
West Bay / Clifton Bay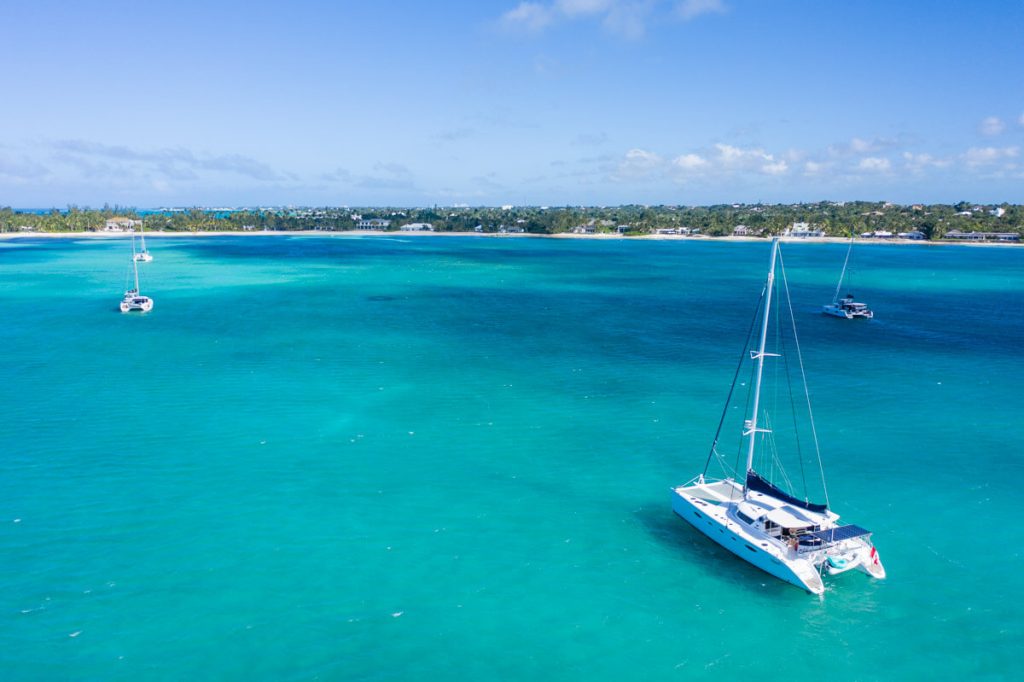 We found an anchorage on the West side of New Providence Island (25.023367, -77.54825) with excellent protection from northerly, easterly, and southerly winds — West Bay. West Bay is a great anchorage, which seems to be quite popular. Many boats stop here on their way over to the Exumas. There were about eight other boats with us in the bay, and it didn't feel crowded at all.
This anchorage is now amongst our favorite anchorages, with great holding, great accessibility (no crazy coral heads or stressful routing to deal with), awesome snorkeling, great walking trails, and good protection from powerful weather.
The beach is also very nice and easy to get to by dinghy. We did find it a bit challenging to get close to the beach because it does get shallow quickly, and there are rocks. We found that heading in close to the old dock (25.018814, -77.545378) works the best, but keep your dinghy away from the old pilings as they have nails sticking out of them.
This was probably the anchorage with the most fish under and around the boat. We recorded our new friends with our
GoPro Hero 8
.
Atlantis Marina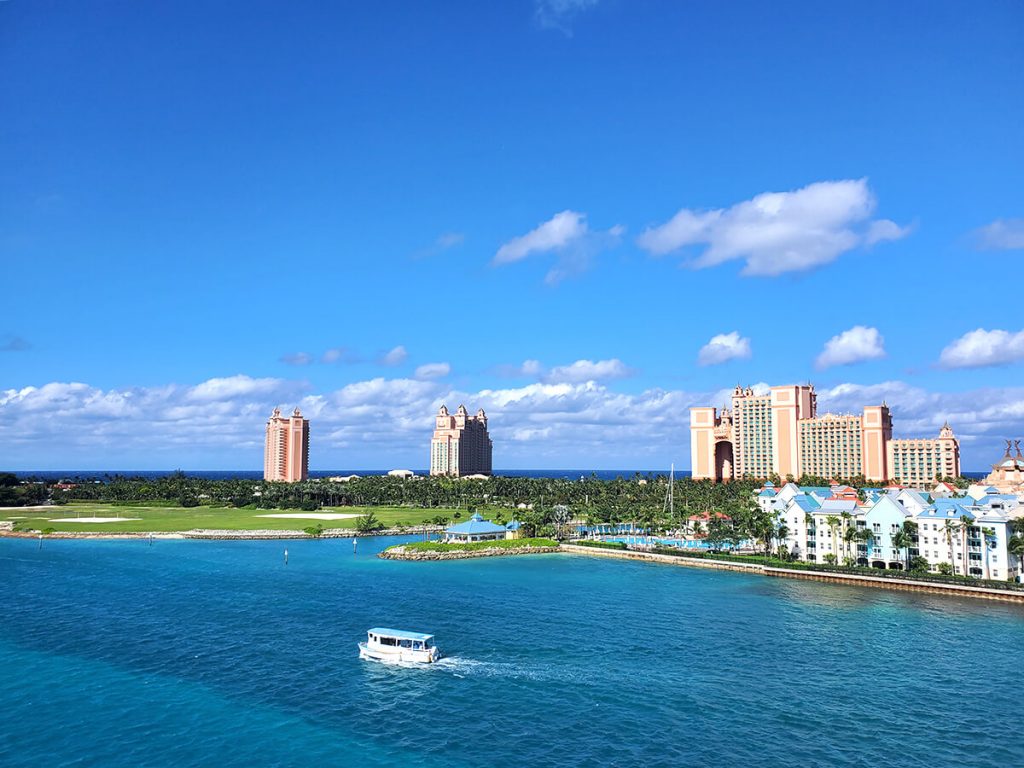 Due to our hydraulics issue, we needed to get a slip at a marina over Christmas and, the only marina that had availability was Atlantis Marina. We paid $5 per foot, per day, in addition to electricity and water, which are both metered. You'd think at that price, we'd receive high-quality service and have a high-quality experience… but, meh.
Getting into our slip (11) was easy. We arrived at high tide to avoid having to fight against the outgoing current – a bunch of our friends said the current was a challenge best avoided if possible.
Yeah, it was pretty cool that as marina guests, we got full access to the Atlantis facilities – all pools, the waterpark, all spaces, all beaches… the amount of steps we got in every day as we explored the property, made Leanne really giddy.
But, for the price we paid? Here's what we didn't like about the marina and why we wouldn't come back:
Getting on and off the boat was really challenging. The slip was too short (they said it was a 60-foot slip but it was a 40-foot slip), so our boarding ladder wasn't accessible forcing us to climb around a piling each time we wanted to get on and off the boat. And, we couldn't let the dogs on and off.
The staff wasn't welcoming or friendly. Major exception for Latoya at the dockmaster's office, who was very friendly and went out of her way to make us happy. I suppose we compared this to other theme parks, like Disney, where everyone we encountered was friendly and welcoming. The Chub Cay Marina staff was much warmer than the staff at Atlantis Marina… and that's saying a lot.
No cart rides for non-super-yachts, which meant we had to walk 40 minutes to the water park. We had asked the dockmaster's office about the complementary cart shuttle service and were told it's not a thing. Later that evening, we heard many of the superyachts request cart pickups for their guests.
Please don't mistake our criticism as being grumpy, ultimately we enjoy every experience and harvest the good things. On the flip side, we want to make sure we share our experience so that YOU can make a decision and be prepared for what your experience COULD be.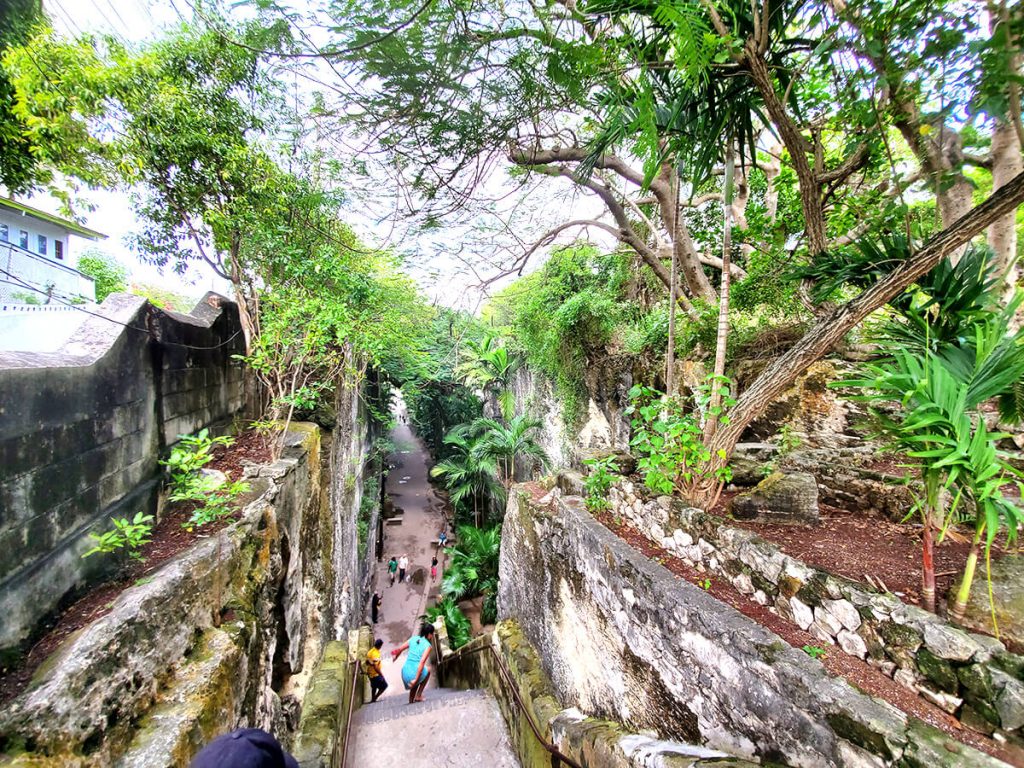 The
Queen's Staircase
in Nassau are 65 steps carved by more than 600 slaves out of limestone, creating a quick way to and from the fort.
Our Volvo Penta Experience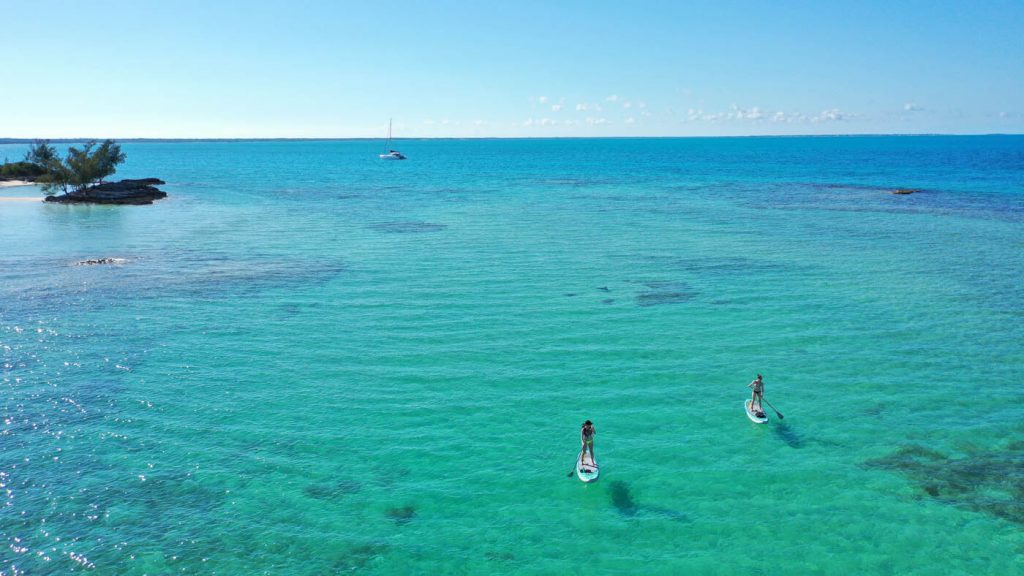 This part is more for those who own a boat or are looking to buy a boat, so you may want to skip along.
In 2015 our boat got new engines, a pair of Volvo Penta D3-110 engines.
Before we continue, we'd like to say that we are very happy with the performance of the engines. While at Atlantis Marina, with weather raging outside, some rainwater was pushed through a small gap and ended up in the ignition assembly for the engine (where you stick and turn the key to start the engines). We noticed the bit of water, took apart the cabinet to get access to the ignition assembly, removed the assembly, and were ready to re-install it with fresh silicone… when the port engine started, without a key.
It's magic!
The even cooler thing was, we couldn't turn the engine back off by using the key… So here we were, in the Bahamas on a Friday night, at a marina that required us to leave in a couple of days, with a running engine that wouldn't stop.
We checked the operator's manual, searching for Key Failure, which was the error message shown on the display. Unfortunately, the manual was entirely useless to help us with this.
So we called Volvo, which boasts on their emergency ACTION SERVICE website:
ALWAYS AT YOUR SERVICE
Global coverage 24/7
Support in 28 languages
Connect to the closest Volvo Penta dealer
Support all the way throughout the case
Guess what the gentleman told us: "Sorry, I can't help, you will need to call a Volvo Penta Dealer, here are a couple of phone numbers to can try."
Super.
That's code for: figure it out yourself, we lie on our website.
Here are our tips when it comes to troubleshooting, in a somewhat prioritized order:
Have the operations manual (we had it)
Have the workshop manual (we got it)
Try to understand the level of service that the manufacturer provides
Don't expect help, stay calm, write down options (and risks for each)
Call around, local and international
If you see water anywhere, even the smallest drop, investigate, trace, and stop the source
Our experience with Volvo Penta was another example of setting expectations higher than we should have. We had hoped for a tip (just one) that would help us at least shut off the engine.
We called everyone and finally got to Justin at Compass Marine, who was very friendly and keen to help, who told us that about the auxiliary stop button on the engine. Winning!
You will probably want to know the end of this adventure. After letting the ignition assembly dry out, it started working reliably again. We tested turning the engine on and off through-out the next days, then reinstalled the ignition assembly (with a good amount of silicone).
Escaping Nassau (to the Exumas)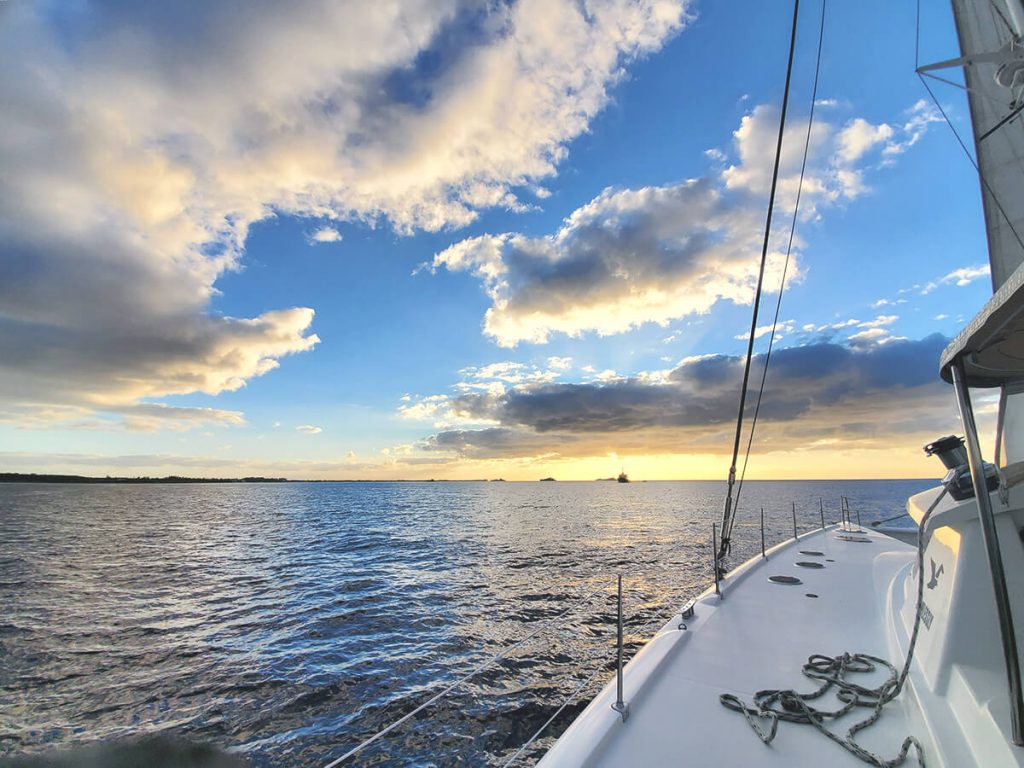 We spent New Year's eve anchored in West Bay (we had a front row seat to 3 different firework shows!), and a few days later, departed for Highborne Cay.
Before we sailed off to Highborne Cay, we stopped in Albany Marina and fueled up. The marina looks very nice, but we did not feel welcome there — aside from Freddy, who helped us at the fuel dock, everyone was very cold to us. In total, we got 98 gallons of diesel ($432.23), which will last us for quite some time, 2 months if we had to guess.
Here is the course we followed from West Bay to Highborne. We usually use both Explorer charts and Navionics charts for our route planning. But, please do not use our route without doing your own research and diligence. Our boat will be different from our catamaran, draft etc.
N 25°01.360′; W 77°33.169′ – West Bay
N 25°01.184′; W 77°33.276′
N 25°00.856′; W 77°33.400′
N 25°00.505′; W 77°33.524′
N 24°56.831′; W 77°30.614′
N 24°54.466′; W 77°27.567′
N 24°51.750′; W 77°20.775′ – White Bank
N 24°49.083′; W 77°17.122′
N 24°47.617′; W 77°11.509′
N 24°49.185′; W 77°07.990′
N 24°42.382′; W 76°51.999′
N 24°43.019′; W 76°49.923′ – Highborne Cay
Let's Sum It Up!
We reaffirmed once again that:
1.) We are a bad@$$ couple who can figure out pretty much anything (because we try and don't give up).
2.) There are really awesome people out there — Bruce and Chris from High Seas, who flew to The Bahamas to fix the hydraulic leak. Also, Justin from Compass, who told us about the auxiliary stop button on our engine and was willing to help us at the drop of a hat.
3.) It's important to enjoy every single moment because there will be challenges that will test you (us).
And most importantly:
4.) We are so happy to have YOU come along our journey — with all the support and encouraging words and often good advice.
You are awesome. Leave a comment. Stay cool.