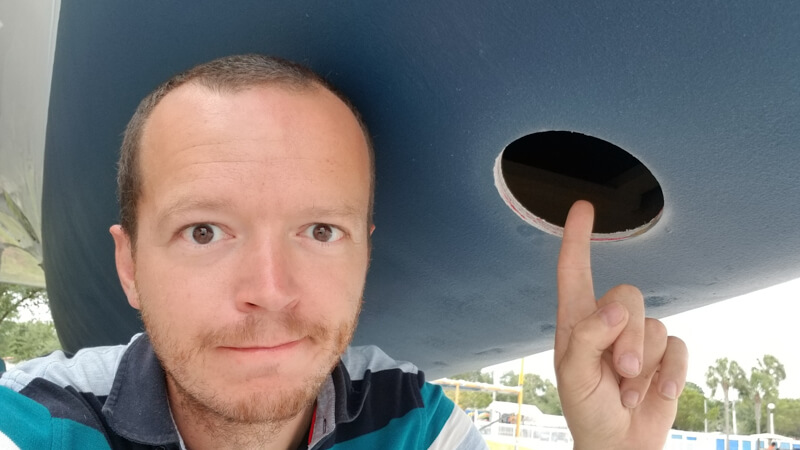 Update
April 22, 2019
We had a very calm and constructive conversation with Thierry (MultiTech/Owner) and Andrew (JetThruster). JetThuster will be there throughout the installation as we had previously agreed to, and Alex will not be on the project anymore.
And then, without warning, MultiTech fired the manufacturer.
So, our boat is a big boat. So much so, that when we went on our first solo sail with limited experience, we knew bow thrusters would be in our future. While we were cruising the Bahamas, we researched options, reaching out to manufacturers, and decided on adding the JetThruster system to Seamlessly.
We planned for a quick stop-and-go refit, which turned into a much bigger undertaking. Our initial plan was to get to Fort Lauderdale for a few weeks and have MultiTech remount our windlass and convert one of our big winches to electric. In case you aren't up to speed with boating jargon, the windlass is the winch that pulls up the anchor. Because of our very good experience working with Gerald Webb at MultiTech, we thought it would make sense to tackle another big project; adding two bow and two stern thrusters to our catamaran. We also had MultiTech working on adding cabinets, polishing the boat, repainting the bottom of the boat, replacing zincs, get custom fridge-freezer gaskets, and a few other bits.
When Gerald Webb from MultiTech mentioned having experience with the JetThruster system, it solidified our decision even more.
We'd had an existing relationship with JetThrusters, having worked with them for awhile figuring out what system would work best, they offered to give us a great deal on the parts, and we were excited to move forward.
This is when things started to go sideways.
Alex Miller, the MultiTech Operations Manager, went back and forth with us on invoicing, charging us more for parts than JetThrusters had set the price to, pocketing the difference and not being honest with us on that fact. In a conversation where we were weary about their ask to pay them the full amount before the project started – we were paying by check and they wanted the full amount beforehand – Gerald said, "if we can't trust each other, we shouldn't be doing business with each other". We agreed – Gerald is a stand up guy and goes to great lengths to ensure the customer is happy.
The caveat was that we wanted JetThruster on the boat at all times, helping with the instal because Alex had made it very clear that their team had no idea how to instal the system and needed the guidance.
We wrote the check, $56,986 USD and braced ourselves for a large project.
On the JetThruster side, we worked with Andrew Banks; incredible stand-up guy, who put in the parts order for the components and provided us with an estimated delivery date of April 17 or 18, 2019 — recommending a haulout date of Monday, April 21.
Alex Miller, scheduled to have us hauled out on Monday, April 15. We raised our concerns with Alex, reminding him that Andrew had said that the parts wouldn't come in until Friday, and that JetThruster couldn't have guys on the ground until April 21.
We assumed that Alex was coordinating everything with JetThruster, but it is our understanding that Alex pressured JetThruster to pull up the timeline for some reason. So, we got hauled out on Monday April 15 and Andrew arrived Wednesday April 17 to start on the project, the parts having not arrived yet. Due to issues with contractors in the past, we decided to be on the boat at all times so we could witness all the goings on, learn things, and really understand the ins and outs.
As Andrew had planned for, the parts got delayed and finally arrived mid-morning on Friday, April 19. He was on the phone with FedEx from Wednesday to Friday making sure that the package was expedited as fast as possible. There was still a lot that could have been done before the parts arrived – run electrical, pull all cables, instal batteries, and drill thru hulls.
The installation team that JetThruster made the best of the situation – trying to get the cables in place for the electrical and drill holes for the jets and intake valves — but it was painful. MultiTech was completely unorganized in our opinion, didn't have the right tools for the job, the techs were rarely at the boat, and JetThruster was not given instructions as to what the plan was.
The original plan was to have JetThruster teach MultiTech how to instal the system, but MultiTech was not on the boat. There was a massive communication disconnect, so Leanne went to talk to Alex Miller about the disconnect on Wednesday afternoon as we saw an opportunity to get both parties together to talk about next steps and push the project forward. Nothing was clarified, so JetThruster was still under the impression that they were to wait for MultiTech to arrive to work on the project.
The MultiTech technician who was supposed to be part of the install, to learn how to install the system alongside the JetThruster team, was on the boat for no more than 3 hours on Wednesday — completely disorganized, unable to find tools and distracted. On Thursday that MutliTech technician was nowhere to be seen — we asked when the electrician would come, and were told he's busy on another boat and would come Friday. Friday, the day the parts arrived, MultiTech told us the electrician wasn't there… so we rolled up our sleeves and helped the JetThruster team pull some of the cables through the boat.
On Friday at 5:01 PM, after the JetThruster team left on their 4-hour journey home to Tampa, we received a call from JetThruster that MultiTech had fired them — we were shocked.
We now have a 60-foot boat sitting on blocks, with 12 big holes, a big pile of parts, and a company we don't trust to do the work — because MultiTech has never installed the JetThruster system anywhere. And made this very, very, very clear when we talked with them about the instal.
It's another great lesson for us. People make or break a company — it's the people, not the company. We felt that Rafael from Just Camarans was really knowledgeable, but we were not happy with Just Catamarans because of others. We were really impressed with Gerald Web from MultiTech, but the rude office staff and people like Alex Miller caused us incredible dismay.
Where does it stand right now? We are hoping that MultiTech will bring back JetThurster to the project, initiate a game plan, and execute on that plan. If they cannot do this, we will fire MultiTech on Monday, finish our project with JetThruster and call it a day. We're so disappointed with the way this was handled, and are blown away at Alex's choice to deal with this situation. It's a little unreal, actually.