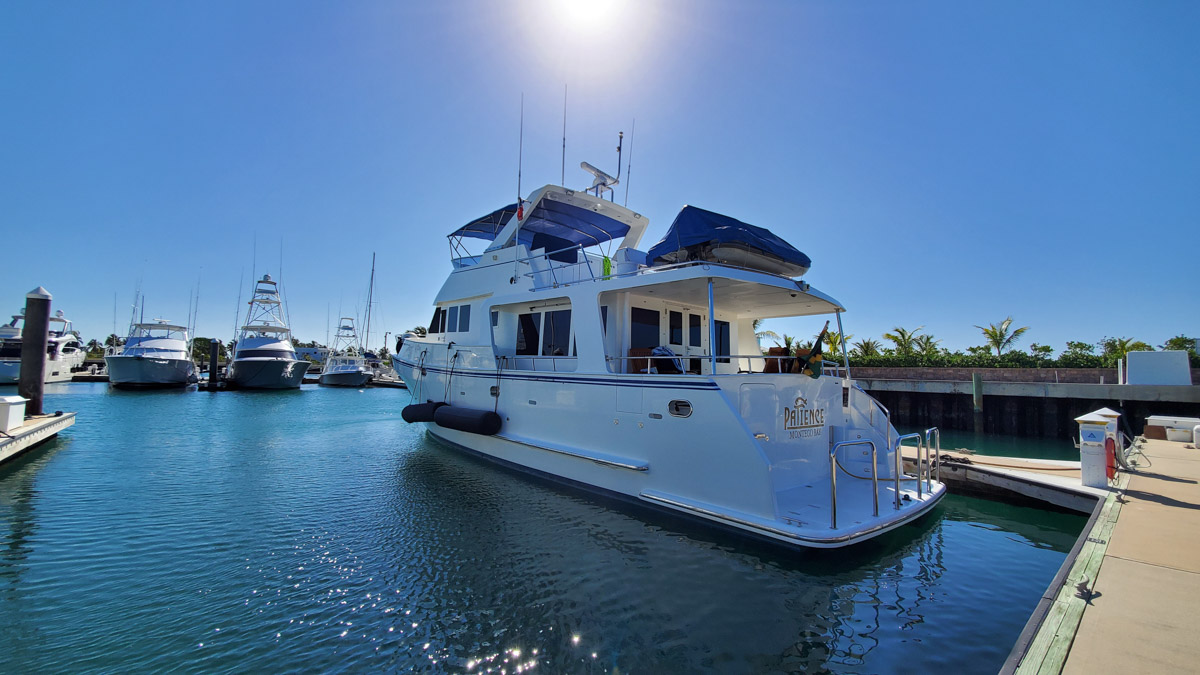 Our last boat, a 60-foot sailing catamaran, was also our first boat. It was quite the learning curve for us, and we did not know to appreciate the new electronics added by the previous owner in 2015. The update included new navigation electronics from Raymarine, a new Onan 21.5kw generator, and two new Volvo Penta D3-110 engines. Switching from the catamaran to a 2009 Alaskan 56 has given us quite a bit of experience and insight into boat electronics.
When we were looking for a new boat, we did keep an eye on the throttle controls. It wasn't a deciding factor at the time, but maybe it should have been. Thankfully, our boat came equipped with an electronic throttle system by Glendinning, which we quickly come to love.
Why we love our Glendinning System
How lame is it that we are writing about throttle controls? But, these types of things make a huge difference.  
And here are the reasons why we love the system:
Intuitive and easy to use
We have throttle controls inside in the pilothouse, and we have another throttle control on the flybridge. They are extremely easy to use, and being "new" to boating, we'll take any help that we can get. After using Glendinning controls for a while, you can tell that the system was designed by someone who owns and moves boats. The throttle response is superb, and the lever movement is smooth. There is a distinct feeling when shifting into neutral — but we do wish there was an audible sound when shifting into neutral.
Extendable. The boat came with a wired remote, which can be connected to one of two exterior ports. One of the ports is in the front, and one in the back. As we do with any of our "wish list items", we do some research and add them to our list of future additions. We discovered that adding another port to the flybridge was as easy as drilling a hole and plugging it in during this bit of research. So we ordered one, drilled the hole, plugged it in, and it worked. We also noticed that Glendinning offers a joystick controller. This system can easily be extended, and most things seem like they are do-it-yourself — or very easy to be installed by a professional, which means it won't cost an arm-and-a-leg.
We had to wait a few days in a marina in The Bahamas and took the little break to install another Glendinning receptacle for our wired remote. Here are some pictures. It couldn't have been any easier.
Redundancy & Reliability. Unlike a hydraulic or mechanical throttle control, our Glendinning system has a built-in backup module. So, there is an automatic fail-safe fall-back system in the improbable event that there is an issue with the main module. How cool is that?!
Great support. Good support is critical because when there are issues — time is money. Sitting in a marina or shipyard, waiting 3-5 business days to reply to a simple question is highly frustrating. Some companies, such as Caterpillar or Volvo, won't even accept ANY direct questions — everything has to go through dealers, dealers that LOVE to push products and services. None of that was our experience with Glendinning. While we didn't have issues with the system, we had some technical questions about the wired remote and adding ports. Glendinning was great, answering all questions and helped us get the parts.