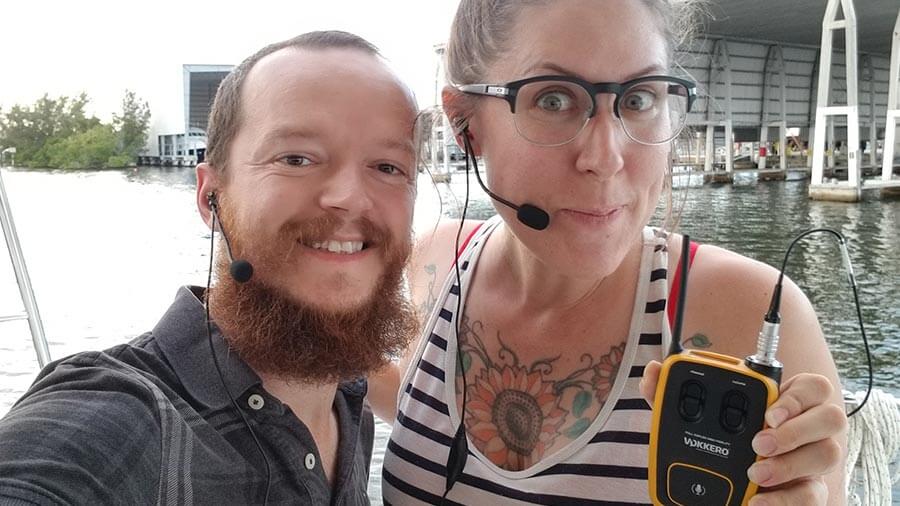 We are starting to accept that a 60-foot catamaran is a big boat, even though we don't feel Seamlessly is big. This is probably because it is our first boat and we have nothing to compare it with. All of our training captains, friends, marina-neighbors, contractors, and generally everyone else recommended that we should look into wireless communication. We shrugged off the recommendation because it sounded like it would be overkill, but after our first few trips, we realized that yelling across the boat isn't very effective (or conducive to a harmonic environment). And this was the genesis of a new project; researching which wireless communication system would serve us best.
As with everything, we seek out solutions that are easy to use and don't require much maintenance. We don't want any equipment that adds confusion, stress, or headaches — we need reliable stuff. Our primary use for wireless communication is docking, maneuvering in tight places or place with heavy boat traffic, anchoring, and inspecting the standing rigging (going up the mast).
We created a spreadsheet and started to gather product data with data like battery life, form-factor, sound quality, transmission performance, ease-of-use, and customer service.
If you want to stop reading now… we ended up with two Vokkero Guardian units; which are amazing!
Initially, we thought about getting cheap 2-way radios, but they wouldn't have provided full-duplex communication; full-duplex allows multiple people to speak at the same time. This also eliminated using VHF radios with a private frequency. We then looked at the communication headsets that use Bluetooth, such as Sena Tufftalk and Sena Expand headsets. Unfortunately, the reviews we found online were not very encouraging, outlining issues with the build-quality and sound-quality. We also investigated the 3M Peltor headsets but ran into two issues: one, they would get hot really fast in the Caribbean sun, and two, we couldn't figure out which of their headsets would provide us the functionality we need. We also looked at Sonetics solutions, but they require a base station, looked really heavy, and we heard not-so-good things about them.
We reached out to countless companies, trying to get questions answered and also see if we could contact someone at the company in case we had issues — nothing. We essentially gave up on the idea of getting wireless radio communication to help us out.
Then we stumbled over Vokkero, a company with communication products widely used for officiating sporting events. We reached out to Vokkero through their website and were blown away by how quickly they replied. Vokkero was genuinely interested in helping us solve our coms issue. We exchanged a few emails and jumped on a call with Bob Dostilio who explained the ins-and-outs of their products. Then they surprised us by sending us two of their Guardian units — which are amazing.
Now we know that Vokkero isn't only popular to help referees with officiating sporting events, but also in professional sailing.
If you have any questions about our wireless communication system (or anything else), leave a comment below.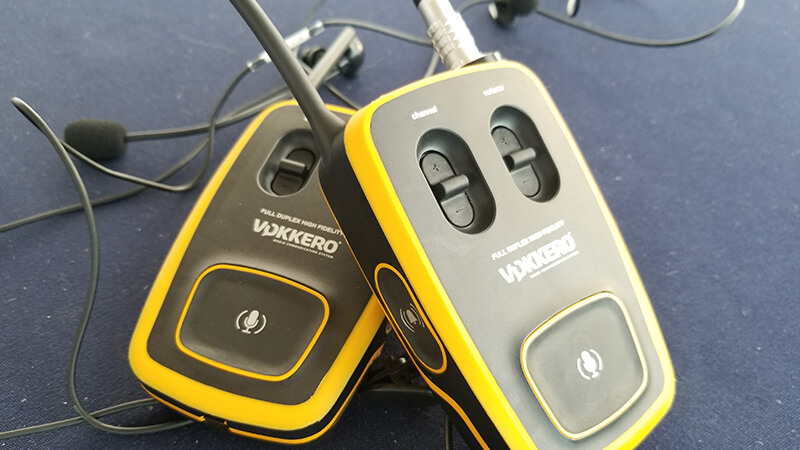 Our Vokkero Guardian wireless communication units. You can have up to 16 units on the same channel (so up to 16 people).