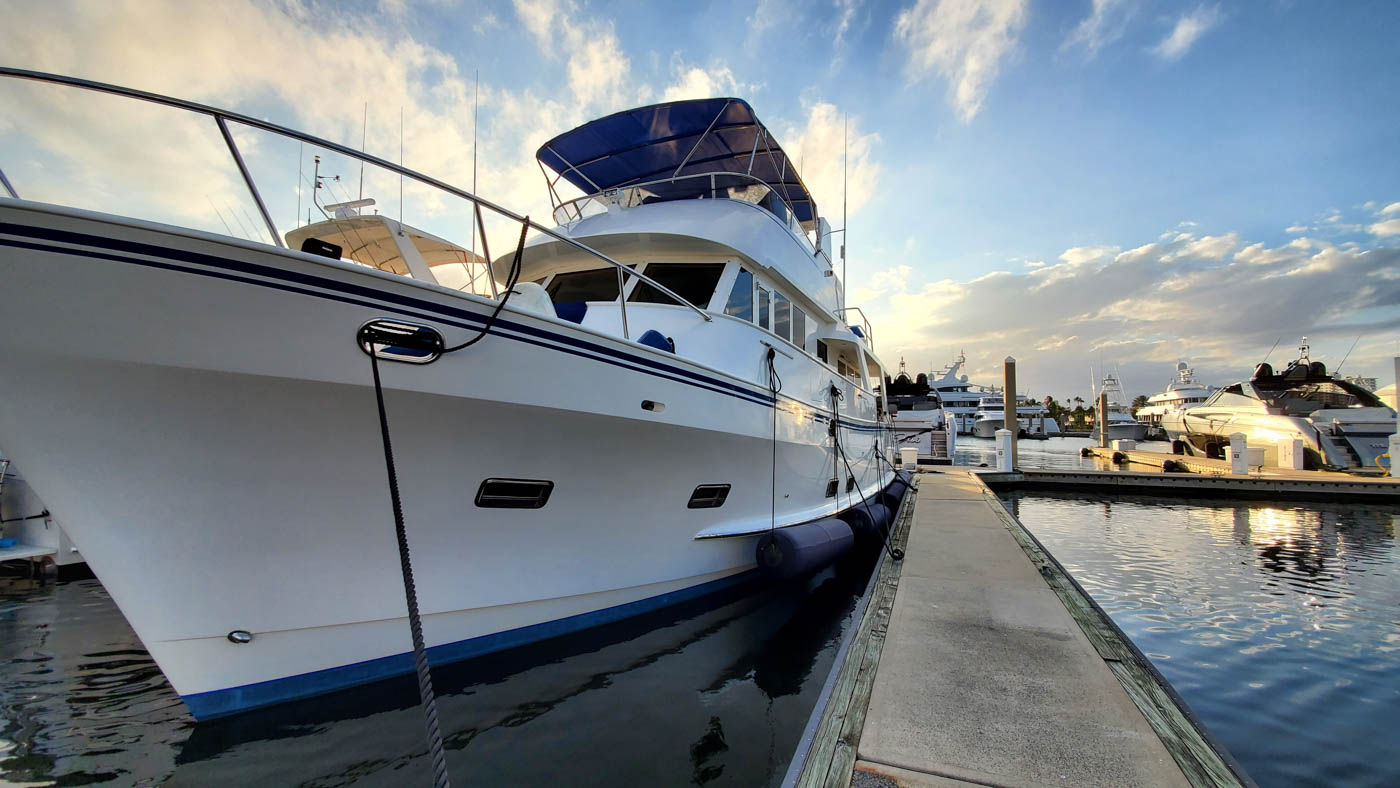 It's finally time for this blog post. Those of you who follow our Instagram adventures have already seen some new trawler pictures and read the updates. We've been knee-deep in getting the boat ready for adventure and exploration but are now almost ready for departure.
Goodbye Catamaran Life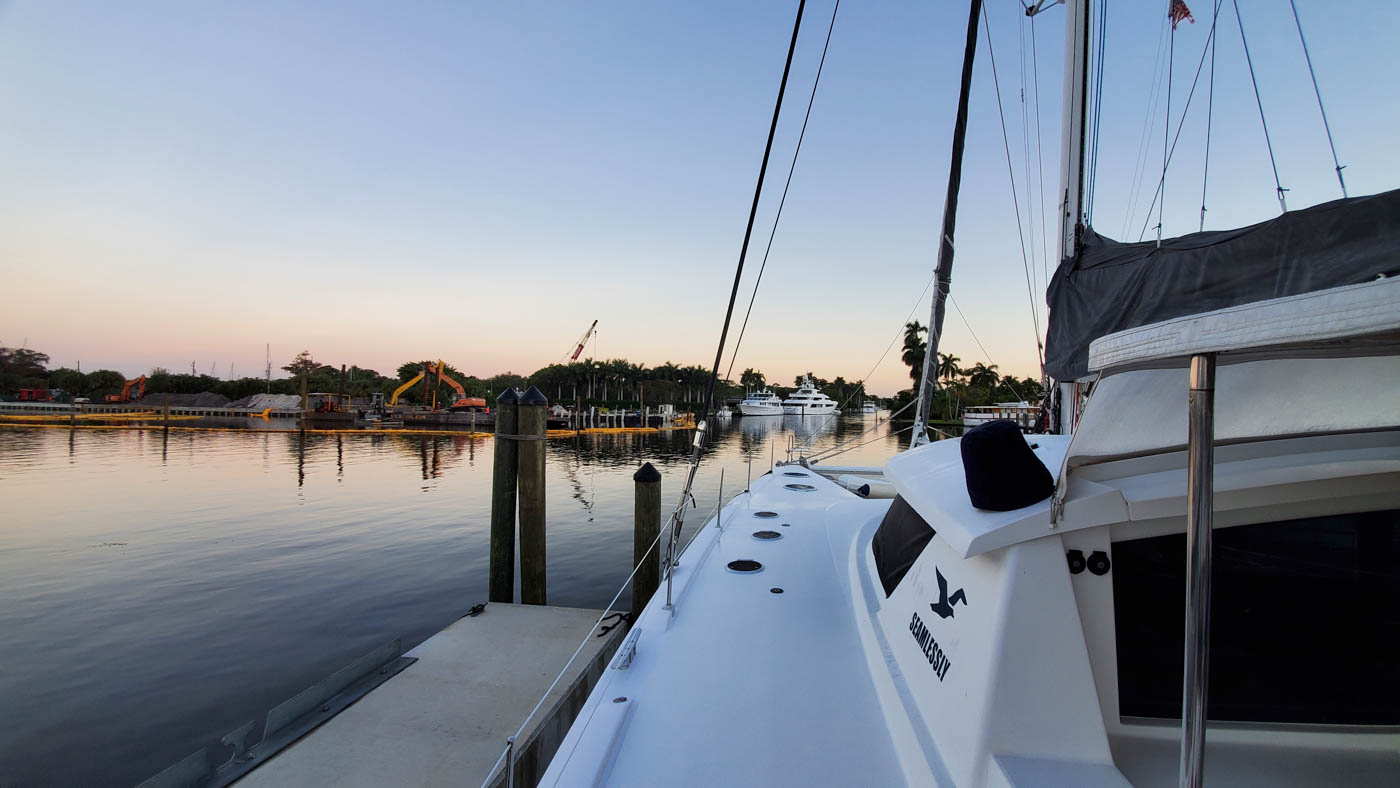 Our 2006 Fountain Pajot Eleuthera 60 was an incredible catamaran, and we would be hard-pressed to point out issues with the boat. It was well built, had an excellent layout for a catamaran, great Raymarine navigation gear, and was well maintained. So why did we make the switch to a trawler? The answer deserves its own blog post, but in short: Finding marina space for a 60-foot by 28-foot catamaran was hard, and if we could find one, the slips were expensive. The 86-foot mast was limiting, especially in regards to bridges that don't open. And being stuck outside during passages, especially with rougher weather, wasn't something we enjoyed. We'll write a dedicated post about this soon!
Meet Patience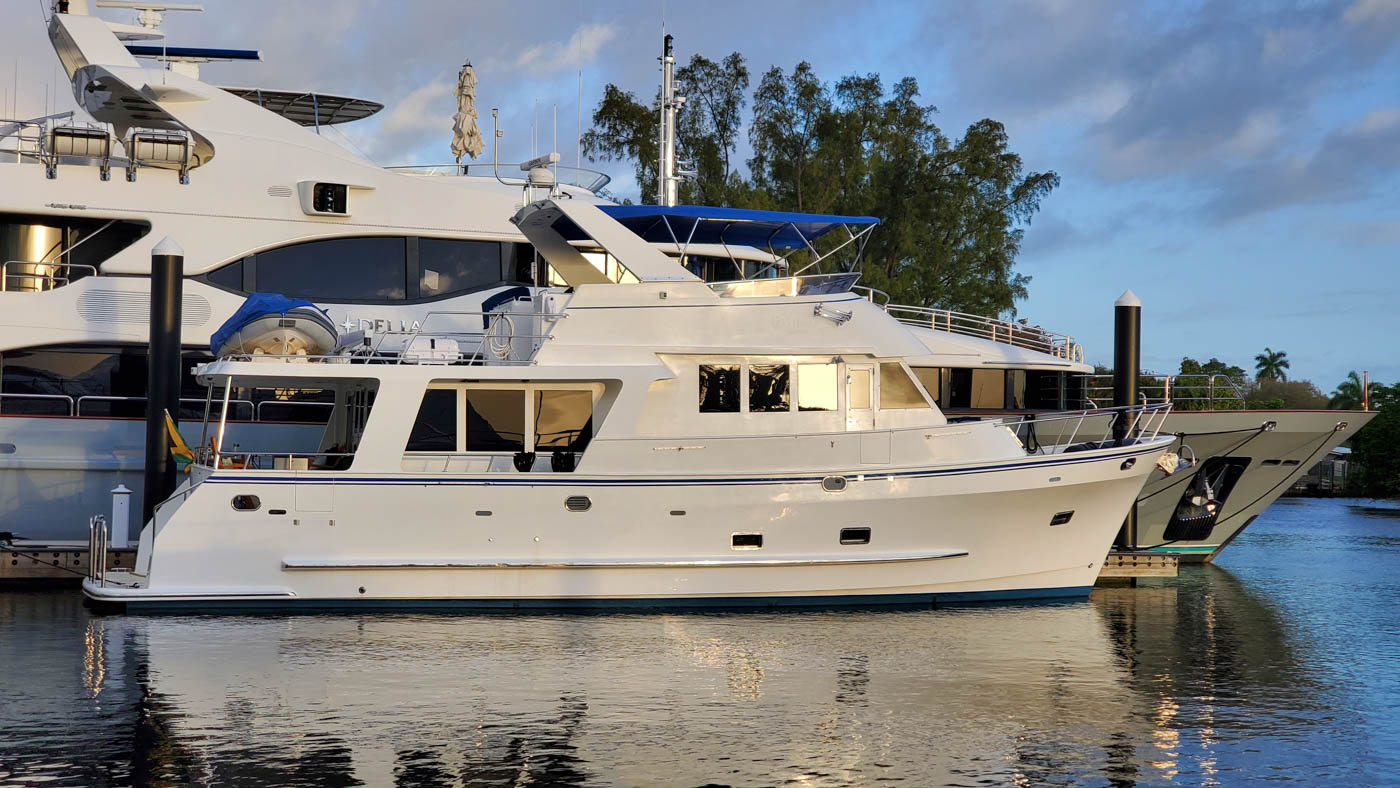 We looked at many boats, including express boats and more sporty-boats like the Offshore 54. After much research and evaluating our needs and wants, we decided that the Alaskan 56 would be the best option for us. There were only 3 Alaskan 56 on the market at the time. Oviatt Marine, which was the builder of the Alaskan boats, only built 9 of the Alaskan 56, and this one checked all of our boxes.
We named her Patience, and here are her specs:
Year Built: 2009
LOA: 58 feet
Beam: 18 feet
Draft: 5 1/2 feet
Fuel Capacity: 1,000 Gallons
Water Capacity: 300 Gallons
Black Water Capacity: 100 Gallons
Tender Crane: 800 lbs
Engines: Twin Caterpillar C7
Max Speed: 13 knots
Cruising Speed: 7 knots
Fuel Burn: 6 GPH @ 7 knots
She is equipped with hydraulic stabilizers, an electric bow thruster, a 50 GPH water maker, and Garmin GPSmap chart plotters. We are already running into big issues with Garmin, but hopefully, we can figure things out.
Preparing Our Trawler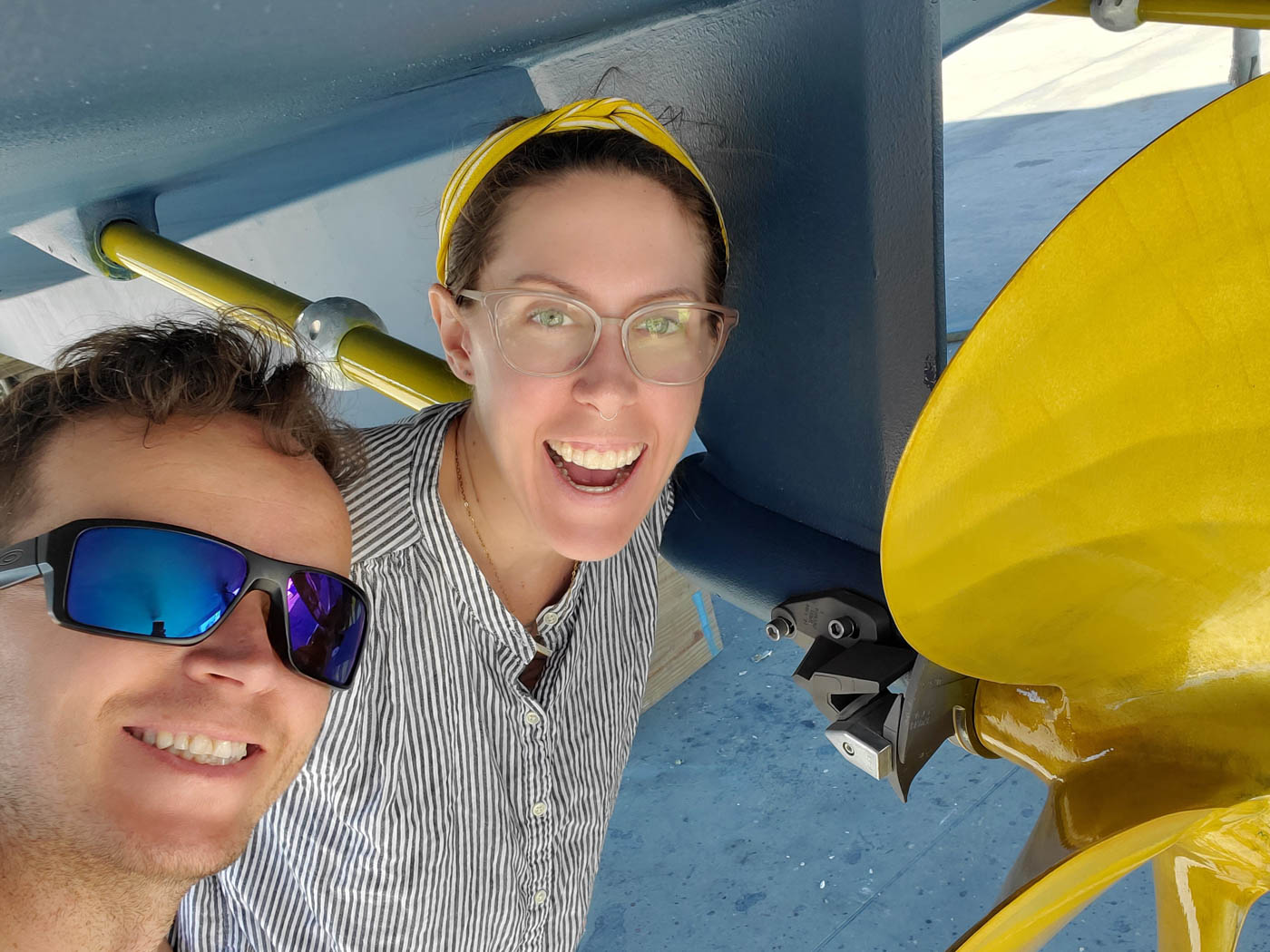 While the boat was in overall good condition, a few things needed to get done and a few things that came as a surprise. Here are the things we did:
Sandblasted, primed, and painted the bottom
Pulled and serviced the shafts
Replaced the cutlass bearings for the shaft
Replaced the rudder bearings
Replaced all zincs
Installed a water maker
Replaced the stabilizer bears and cylinders
Replaced the VHF and installed new antennas
Replaced the defective 24VDC charger
Replaced the AIS module
Installed an NMEA 2000 module (for TimeZero)
Installed a new Dell touch screen (for TimeZero)
Serviced the engines (oil change, filter change, belts…)
Replaced defective cameras and installed two more
Replaced broken chain stopper
Replaced the anchor with a Rocna 55
Installed an anchor swivel
Replaced all big batteries, 12 of them
Rebuilt the black water pump
Replaced the old carpets in the salon
Repaired and painted the davit crane hydraulic cylinder
Serviced the line cutters
Repaired the stabilizer fin
Repaired the stabilizer bases
And, of course, there was a whole bunch of scrubbing, polishing, and cleaning. Once again, High Seas at LMC did an outstanding job with our shafts, props, and hydraulics; special thanks to Chris, Josh, Zack, and the rest of their crew. Fine Line Electric took care of the new Victron charger, replaced the batteries, and did a great job; special thanks to Oliver, Patrus, and co. Fleming Marine Composites took care of all the fiberglass work and didn't fail to impress again; special thanks to Derek and Reid. This was the first time we used LMC for bottom work, and they did a great job too!
Grateful for TimeZero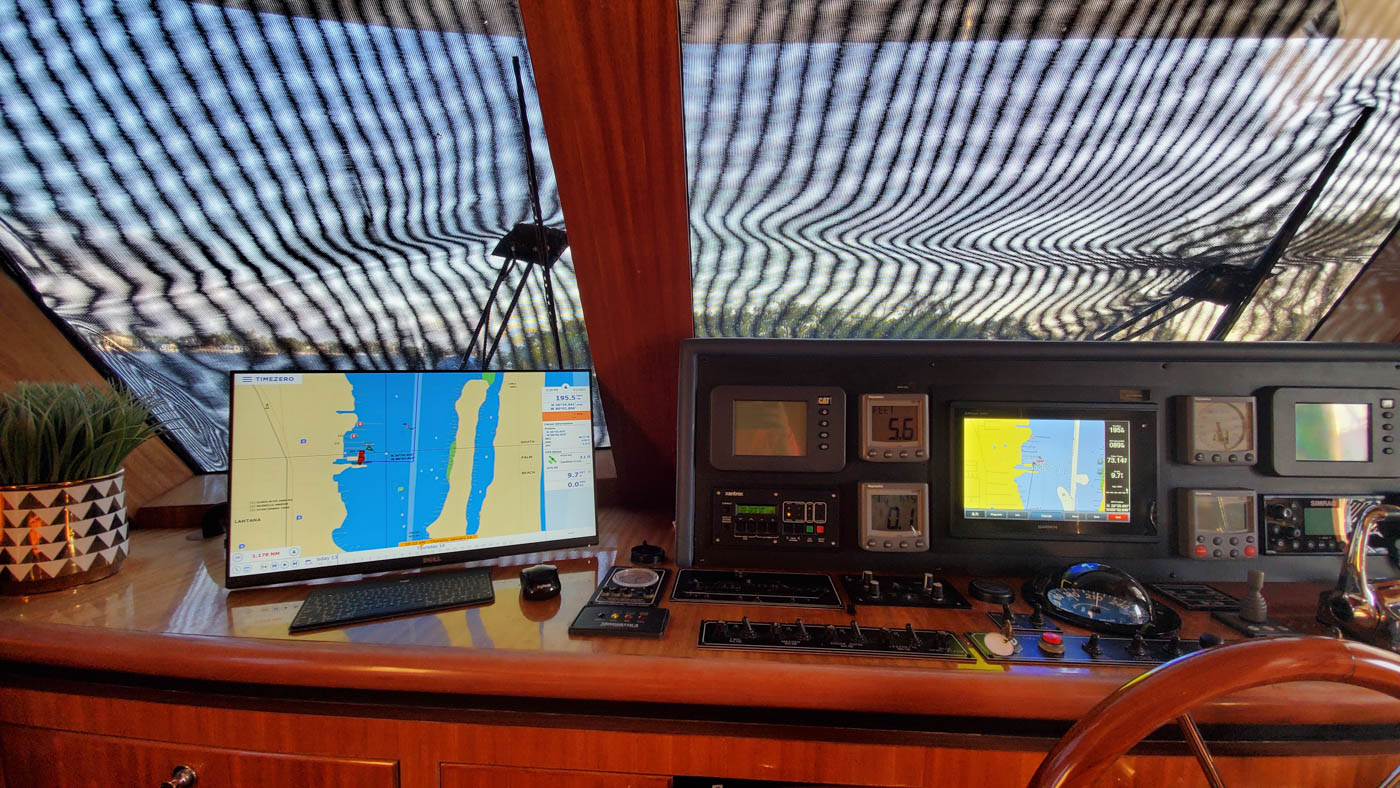 All the problems that we've had with our Garmin chart plotters have greatly increased our appreciation for TimeZero even further. TimeZero is a PC software that can be used for route planning and navigation. We had TimeZero on the catamaran, installed on a laptop, and decided to add a touch screen, keyboard, and mouse, to our TimeZero setup. TimeZero is worth every penny, and we would dread route planning without it. While we are struggling with Garmin Marine support to figure out how to update our maps on the chart plotters, we know that we have TimeZero ensuring safe travels even without the Garmin map update.