We've been living in the RV full time for 89 days! Time sure is flying by. I thought it would be fun to update you all on what we're loving and not so much enjoying about living in our RV full-time. It's taken some adjustment, and we're still learning, so here goes!
Since September 30, we've been staying in Kelowna before heading back to the US. Looking back, we probably shouldn't have booked the same place for 30 days without having visited it first, and probably should have just skipped Kelowna all together. It hasn't been the most enjoyable stay. Kelowna, a lake town located in the Okanagan Valley of British Columbia, is great in the summer, but boring as all get out in October. And, the place we're staying isn't the best. It's clean and all, but the neighbors and managers are nothing but chatty. No one wants to connect, and it's FREEZING here!
Leanne is on her way back to Kelowna after spending a few days in Calgary for a book event, some meetings, and catching up with friends and family. Once Leanne is back we are going to make our way down to Portland and then head down toward New Mexico and Texas after passing through a few places in California that we want to see. Now, we're only planning about 1 month ahead of time and staying in places for a maximum of 8 days.
Lexy, Pebbles, Coconut and I sat down to figure out the pros of living in an RV full time and the cons of living in an RV full time. Let's do it!
3 Pros
Let's start with the 3 things we really like.
Our cost of living is much lower. We don't have a mortgage and property taxes. We don't have to pay for utilities, cable TV, or internet. Yes, we still have cell phone bills and have to pay rent for the spots we stop at, and diesel fuel, but overall the cost of living is much lower.

We get to see and experience different places. Being able to just pick-up and go has been very cool and we are still getting used to the flexibility. If we want to see the ocean, we plan a route to the ocean. If we want to be in the mountains, we plan a route to the mountains (after checking the weather forecast and road conditions). Oh, and Coconut loves all the new dog parks, while Lexy and Pebbles enjoy the different smells and watch Coconut run around like a crazy chicken.

We get to make new connections and meet people. This one is two-sided, but I'll talk more about the other side later on. There is literally not a single day on which we don't meet a new person and have a conversation about something. We would not have had all these opportunities to meet others if we would have kept the house and stayed put. The most interesting conversation so far, at least for me, was with Officer Fox at the border crossing heading into the US from Canada.
3 Cons
Now to the 3 things we are still trying to figure out, aside from our constant struggle to keep Exlorker2 clutter-free and clean.
We have been doing quite a lot of planning. We can just pack up and drive, but without a plan, it usually means we'll have to stay in a parking lot for the night until we figure out where we want to go. Many places are full, it's hard to get into boon-docking sites with our size, so it limits our options. If we want to check out a place, we have to plan, which mostly involves finding a campground that can accommodate a 40-foot motor coach and allows 3 dogs. The planning goes beyond campgrounds. With each place we visit, because we're running a company, we need to be close to an airport and major hotels so that Leanne can travel for work and book hotels to record podcasts when needed. Oh, and then there is weather, avoiding the snow and ice.

Receiving packages has been hard for us. There are companies who have made it really easy for us with fast shipping, good tracking, and awesome customer service. Big shout out to vention.io from which we ordered parts for an enclosure for our CNC machine (oh yea – a computerized super-cutting machine). Canada Post offers a service called Flex Delivery, which gives us an address at the nearest Canada Post office that we can use for online orders. FedEx has been amazing as well, while UPS has been difficult to deal with. It has been a challenge, but we're slowly starting to figure out what works for us.

Making actual friends has been hard. We often joke about this, because it has never been easy to make actual new friends even when we had a house. We've met a lot of people on the road, yes, but we don't stay in a place long enough to build a friendship. There have been a few people who we really connected with, but maintaining a friendship is really difficult when you're back on the road in a couple of days or weeks. We're working on problem-solving this one and will let you know when we have come up with a magic formula.
We love problem solving and enjoy the process of learning new ways of doing things; so we will do just that – figure it out and have a good time doing it, with the occasional argument and misbehaving dog moment.
Here are a couple of pictures of where we've been lately and what we've been up to…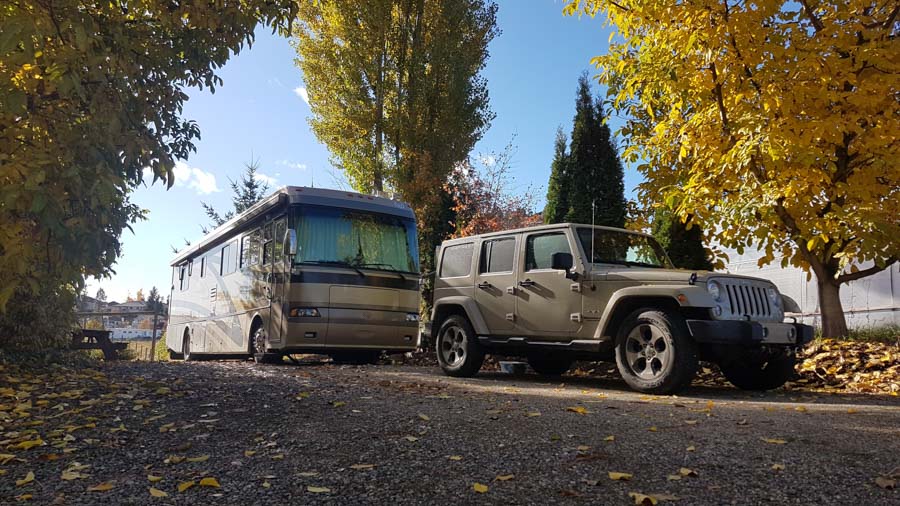 Explorker2 and GeBe hanging out in the sun at Orchard Hill RV.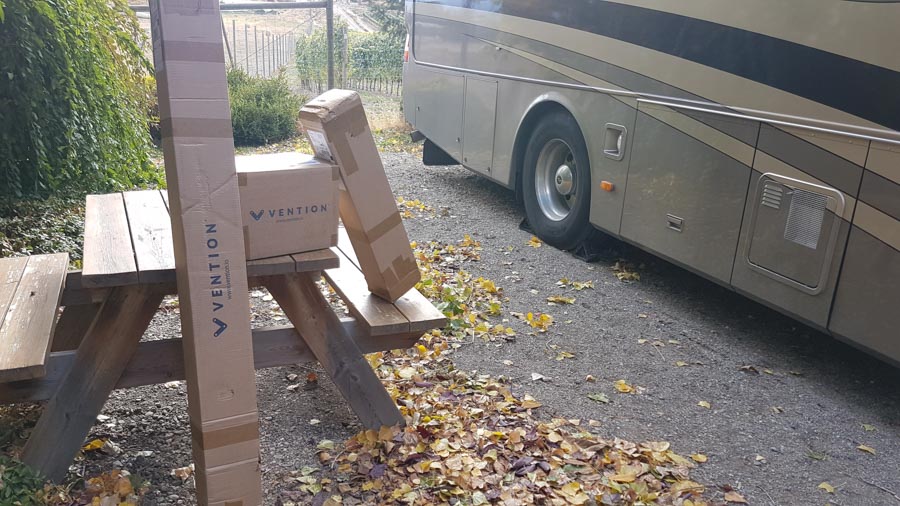 Parts from vention.io for our CNC machine enclosure arrived!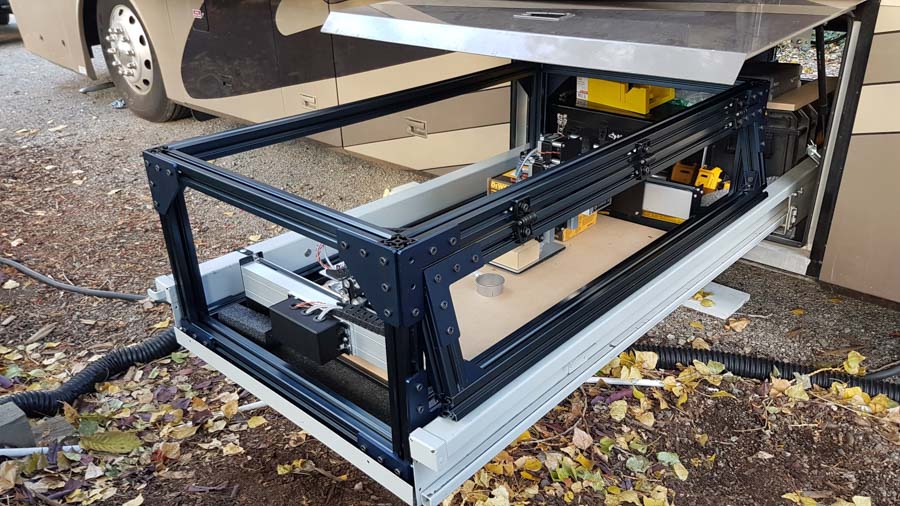 The enclosure for our CNC machine is done, after 4 hours of work.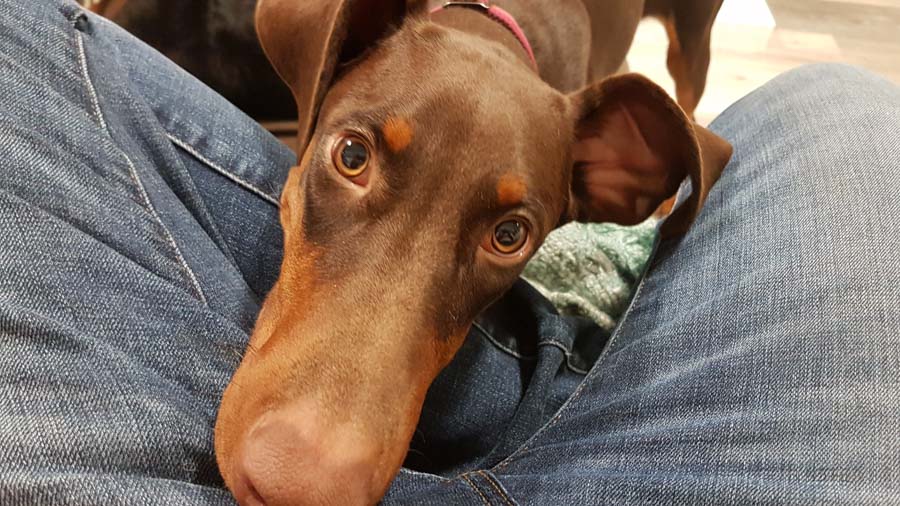 Coconut wants to go back to the dog park! Pretty please.
I am going to get back to my CNC project, trying to get the issues worked out with our Shapeoko 3 XL, right after the girls and I go to the dog park. Anyhow, we would love to know what is stopping you from hitting the road to explore the word – explorking style, let us know in the comments below!